Sexist 'Fox & Friends' segment has men watching female host, guest do some spring cleaning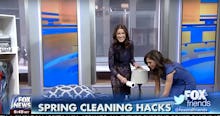 Fox News is currently the subject of intense scrutiny, thanks to numerous reports of rampant sexual harassment directed at female employees. One might think such scrutiny would make the network more sensitive to sexism in its content, but Saturday's spring-cleaning segment on Fox & Friends  suggests otherwise.
Male host Clayton Morris introduced the segment from offstage, promising "tips to make your spring cleaning a breeze." Onstage, Fox & Friends host Abby Huntsman and guest Anna De Souza smiled as they cleaned a mock bedroom set, while the song "Yakety Yak" played in the background.
For anyone unfamiliar with The Coasters canon, the lyrics to this 1962 song are: "Take out the papers and the trash / Or you don't get no spendin' cash / If you don't scrub that kitchen floor / You ain't gonna rock and roll no more / Yakety yak, don't talk back." 
Needless to say, it feels pretty wrong in the context of men commenting on women doing housework. 
During the segment, Huntsman and De Souza discussed organizational tips and DIY strategies. From offstage, the men chimed in to make jokes about De Souza's closet-storage hacks — but didn't actually involve themselves until about halfway through the clip. 
"Guys, I know you're thrilled about all these ..." Huntsman began, before Morris interrupted. "Yes," he said, ambling onstage. "I'm excited to watch you do it."
The segment aired one week after a New York Times article drew widespread negative attention to Fox News' handling of sex-based discrimination in the workplace. The report alleged the network and top host Bill O'Reilly paid out roughly $13 million in settlements to silence women who filed sexual harassment suits against O'Reilly. 
Based on stories Wendy Walsh, a once-frequent guest on The O'Reilly Factor, told the New York Times, the culture at Fox seems to be one in which women are habitually demeaned because of their gender and expected to put up with male colleagues making inappropriate overtures. 
Walsh's depiction of the company were similar to allegations made by former Fox & Friends host Gretchen Carlson when she filed suit against former CEO Roger Ailes for sexual harassment. Carlson's lawsuit also addressed the "disparaging treatment" women received in the newsroom and the "sexist and condescending" way in which male cohosts addressed her. 
On Sunday, Walsh's lawyer announced Fox would be investigating the claims against O'Reilly in line with company policy. 
The Fox & Friends segment is yet more evidence of what it's like to be a woman working at Fox News.