Coptic church attacks: Egypt's president declares three-month state of emergency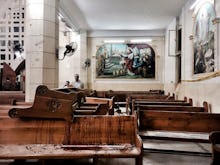 After deadly suicide bombings in two Coptic churches killed at least 44 people in Egypt on Sunday, the country's president, Abdel Fattah al-Sisi, took to state television to declare a three-month state of emergency.
"A series of steps will be taken, most importantly, the announcement of a state of emergency for three months after legal and constitution steps are taken," Sisi said, according to Reuters.
The first bomb was detonated at the Mar Girgis church in the town of Tanta, Egypt, just before 10 a.m., as worshippers gathered for Palm Sunday, killing 27 people and injuring an estimated 78, the Egyptian Health Ministry told Time. Hours later, a suicide bomber entered St. Marks Coptic Orthodox Cathedral in Alexandria, Egypt, as police tried to apprehend him, killing three officers and 14 civilians and injuring 48 others.
In a rare move, Sisi also deployed troops to assist police in securing key locations amid calls for national unity.
"The attack ... will only harden the determination (of the Egyptian people) to move forward on their trajectory to realize security, stability and comprehensive development," President Sisi said in the statement.
The Islamic State group, also known as ISIS, claimed responsibility for the attacks, which are both just the latest instance of Egypt's Coptic-Christian minority being targeted by the extremist group. 
In December, a similar attack St. Mark's Cathedral in Cairo killed 29 people. In February, an ISIS pledge to carry out further attacks caused around 250 Christians to flee the country.
"As a Coptic Christian, I no longer feel safe in Egypt," Hany Ezat, whose cousin was injured in Sunday's attack, told Time. "The security forces don't care about us. ... Each time, the security forces promise to protect us but nothing happens. Events like today will keep happening."
In a message to Egypt's Christian community following the deadly attacks, ISIS vowed that Sunday's violence would not be the last.
"Crusaders and their apostate allies should know the bill between us and them is very big, and they will pay it with rivers of blood from their children, God willing. Wait for us, for we will wait for you," the group said in a statement.