How much does Coachella really cost? Here's what you spend on festival tickets and more.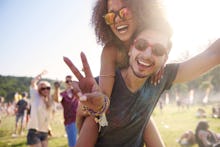 It's getting warmer. Flowers are blooming. The birds are waking you up way too early. This can only mean one thing: Coachella time.
The spring music festival is swiftly approaching, with the first weekend from April 14 to 16 and the second from April 21 to 23. The fun goes down in its usual home, the Empire Polo Club, which is actually technically just outside of Coachella Valley in Indio — both are in California, not far from Palm Springs. 
Naturally it's a star-studded event, and the heavyweights — aka headliners — include Kendrick Lamar, Radiohead and Lady Gaga. Gaga was a recent addition, stepping in to replace Beyoncé, who had to drop out, as being pregnant with twins is hard work.
We know festivals can be expensive — like, really expensive. For example, those glamorous Coachella "safari tents," plus two VIP guest passes, run a whopping $7,500. But even if you try to take your splurge down a notch (or twelve), it's still hard: Compared to hotel prices the weekend before the festival, the average price for a hotel per night over the two weekends jumps up by 161%.
To help you save, Mic has broken down costs and created a rough plan for one of the cheapest options you can find on both weekends: You can save a lot by camping instead of staying in a hotel.
Within California, car pooling or renting a car is likely your cheapest bet for transit, though your rental price will depend on where you depart and drop off. As a baseline, as of Monday, cars for the April 14 weekend in Los Angeles, California, were running at about $65 a day. And if you live far away, you will also of course have to do your own estimates on the travel costs in order to get to Los Angeles, the closest major city. Flights from New York at the time of this article's publication were approximately $700 on Expedia.
Here are the costs you'll pay at Coachella.
Festival passes, $500 or $385: Turns out StubHub, if you're lucky, may actually be cheaper than buying through the Coachella site. On StubHub, you can still pay $500 for the first weekend and $385 for the second one. Festival passes are still available via the official site, running at $399 for the weekend: But you currently can't buy them without also purchasing a $225 fancy meal for one of the nights you're there, making it a total of $624.
Transportation, $30: We decided to go with a car as your mode of transport, given shuttle passes are sold out. The average tank for a smaller car takes 12 gallons of gas and the average price of gas in California is $2.50, according to CNNMoney: Filling up your small car would cost about $30.
A Mini Cooper, which is on the smaller side, runs at 25 miles per gallon. Given the drive from Los Angeles is about 130 miles, you'd need need roughly 10 gallons of gas — which means you can get there and back on one tank. #Winning. Note: If you want to be more conservative, Money suggests you have $50 to spare for gas.
Lodging, $113: This nice low figure is if you camp. There are still camping passes available. But if sleeping outside with thousands of strangers really isn't your jam, the average hotel price for the first weekend is $404, while the weekend two average is $425, according to Trivago. Yes, that's per night. 
Food and booze, $100: In terms of sustenance and other essentials, like alcohol, we used common sense on this calculation. Pack a ton of sandwiches in the cooler, throw in some power bars and snacks and you're good to go. And if you shop smart, fifty dollars worth of booze could be plenty for the festivities.
All in, if you're relatively local, you could spend a little over $740 on weekend one and around $630 on weekend two — plus any additional travel costs. While not quite Coa-cheap, that price tag is far more Coa-chill than dropping seven grand.
Sign up for The Payoff — your weekly crash course on how to live your best financial life. Additionally, for all your burning money questions, check out Mic's credit, savings, career, investing and health care hubs for more information — that pays off.