Russian hacker sought by the US arrested in Spain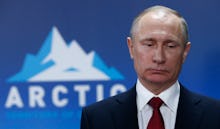 Police in Spain arrested a Russian hacker sought by American authorities on Friday, amid rumors that the man is linked to interference in the 2016 United States presidential election.
According to the Washington Post, Pyotr Levashov was detained in Barcelona on a U.S. computer crimes warrant, which isn't necessarily anything out of the ordinary. 
Foreign speculation kicked into high gear, however, after Levashov's wife said in an interview with a Russian RT broadcaster that her husband had told her during a phone call from the police station that he had been brought in for creating a computer virus "linked to Trump's election win."
As the Post notes, specifics on the allegations leveled against Levashov weren't immediately available, but it's not uncommon for malicious software to be widely disseminated and repurposed in hacking communities.
Peter Carr, a spokesman for the criminal division of the U.S. justice department, said that the case "remains under seal, so we have no information to provide at this time," according to the Guardian.
During the 2016 presidential election, United States officials formally accused Russia of releasing hacked Democratic National Committee emails and actively coordinating an effort to sway the vote in favor of then-Republican candidate Donald Trump. 
A House Intelligence Committee investigation into the alleged Russian hacking is ongoing.