United passenger on overbooked flight pulled from seat and dragged, viral video shows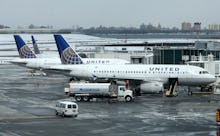 United Airlines is in hot water yet again after a man was forcibly removed from one of its flights on Sunday — and passengers caught it on video.
Footage posted to social media shows security guards pulling a screaming man from his seat and dragging him down the aisle of flight 3411 on Sunday evening. 
"Everyone was shocked and appalled," Audra Bridges, a passenger who witnessed the removal, told the Courier-Journal. "There were several children on the flight as well that were very upset."
According to Bridges, United overbooked the flight from Chicago O'Hare Airport to Louisville, Kentucky. Before passengers began boarding, gate agents offered travel vouchers and a hotel stay to anyone who would give up their seat to accommodate four stand-by United staffers scheduled to fly out of Louisville Monday. Staff kept upping their offer to no avail, and eventually, they let people board. 
As Bridges told the Courier-Journal, passengers were then informed that a computer would choose four people, at random, to give up their seats. The man in the video was among those selected, and the only one who would not leave. 
Bridges said he became "very upset," explaining that he was a doctor and needed to be in Louisville for morning appointments. He was reportedly warned that security would take him off the plane if he did not go willingly. When he still refused to go, three security guards gathered around him. One pulled him from his seat and off the flight. 
Bridges said the man eventually made it back onto the flight, but that his face was bleeding. Everyone was kicked off the plane so flight attendants could "tidy up," she said, and the flight was delayed for two hours.
When reached for comment, United did not provide more context for the incident, but did offer a statement:
"Flight 3411 from Chicago to Louisville was overbooked," a representative for the airline said. "After our team looked for volunteers, one customer refused to leave the aircraft voluntarily and law enforcement was asked to come to the gate. We apologize for the overbook situation. Further details on the removed customer should be directed to authorities."
In a statement provided to CNBC, United CEO Oscar Munoz was a little more apologetic. 
"This is an upsetting event to all of us here at United," he wrote. "I apologize for having to re-accommodate these customers. Our team is moving with a sense of urgency to work with the authorities and conduct our own detailed review of what happened. We are also reaching out to this passenger to talk directly with him to address and resolve the situation."
April 10, 2017, 12:39 p.m.: This article has been updated.
Correction: April 10, 2017