Frank Ocean's new single and Kylie Jenner's prom date: Breaking down the loudest hype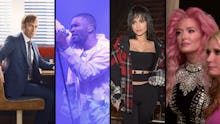 Any time an anticipated movie, TV show, album or other artistic product drops, one inevitable question lingers in the air: Does it live up to the hype? In our new weekly Hype Tracker column, the Hype staff will take a closer look at four pieces of pop culture from the past week. We'll break down how well each stacks up compared to expectations. This week, we're looking at how Better Call Saul starts its third season and how The Real Housewives of Beverly Hills ends its seventh, plus taking a listen to Frank Ocean's latest and wondering why Kylie Jenner went to a junior prom.
[Editor's note: Spoilers ahead for Better Call Saul and The Real Housewives of Beverly Hills.]
Kylie Jenner hits junior prom — but why?
Kylie Jenner attended a Sacramento, California, teen's junior prom over the weekend. Naturally, it turned into a shit show. Photos and videos show everyone crowded around the reality star and screaming her name. 
Now, you can't completely fault the student who brought Kylie. Who would have thought that she'd say yes? But Kylie essentially turned a high school prom into a circus. It's a night that some students must have dreamed about for months, but will now be remembered as the night Kylie Jenner showed up at school. Prom is supposed to be a rite of passage — a night you get to dress up, dance with your high school crush and maybe even have a little fun in the backseat of a car. Kylie took that away from those kids. Attending wasn't a generous move. It was a selfish one that got all eyes on her. —Amanda Buckle
Did it live up to the hype? It was unexpected, so it had little hype to live up to, but still didn't impress. We hope at least her date had a good time?
Better Call Saul opens season three strong.
While Better Call Saul has always existed in the Breaking Bad universe, Jimmy McGill, aka Saul Goodman, has mostly avoided the big callbacks to the original series. Well, except for that one time he regrettably met Tuco.
That's changing in a big way for season three, which premieres Monday and will see the return — or technically, the introduction — of Breaking Bad's biggest villain, Gus Fring. I'm a huge Gus fan; he's probably my favorite TV villain of all time. So just seeing him on screen again is enough to get me excited. However, I'm happy to report that the first two episodes of Better Call Saul's third season are excellent, and the show isn't losing any focus or dipping in quality as it teeters closer to its source material. This might be the year Jimmy officially becomes Saul.
What else can I say about season three? Keep an eye out for familiar faces and let the nostalgia run through your veins. Also, try the new curly fries from Los Pollos Hermanos. —Miles Surrey
Did it live up to the hype? Expectations are high, and have been since the spinoff's premiere, but Better Call Saul is still beating the hype.
The Real Housewives of Beverly Hills turns a party into a fight club.
Ostensibly, the Real Housewives of Beverly Hills finale was set at a party celebrating Lisa Vanderpump's daughter Pandora's new rosé wine. In reality, the party — where guests were expected to dress up in gold or rosé-themed outfits — was a front for the closest thing to a Real Housewives fight club we've ever seen.
Maybe Lisa Vanderpump spiked the wine, because nearly every woman on the main or recurring cast showed up ready to dig their heels in. Of course, Camille Grammer, who came dressed off-theme, floated above the fray like the saint she is, but Kim Richards, looking the best she ever has, got into it with longtime rival Lisa Rinna. Meanwhile, Rinna fought with the other Lisa and new housewife Dorit Kemsley. Her husband P.K. fought with fan favorite Erika Girardi, while Eileen Davidson stood up for her. Kyle Richards mostly stuck to the sidelines, while Eden Sassoon capped the episode with an epic meltdown aimed at erstwhile pal Rinna that reeked of trying to start enough drama to stay on the show for another year.
It was an absurd event that lasted the whole episode, with the cast members basically just floating from fight to fight. Kyle Richards later said during Watch What Happens Live that the women did see the party as a chance to air grievances. There are always high expectations for a finale, but I don't think any fan saw this battle royale coming. —Kevin O'Keeffe
Did it live up to the hype? Not really. This was just Housewives trying to resolve every conflict in a single party, and it felt too messy. Sassoon's tantrum was just sad to watch.
Frank Ocean goes "Biking" with Tyler, the Creator and Jay Z.
The most beautiful thing about being Frank Ocean these days is that no one — no labels, no fans, no bandmates or collaborators — expects a damn thing from him. As a newly independent artist, he's got no boss and no contract demands to meet. No self-respecting fan would likely even think to start begging for a new album, especially after the rollercoaster four-year ghosting Ocean gave the world crafting Endless and Blonde.
Ocean is entirely free, and as such, every song he releases feels like a rare surprise, a moment of inspiration rather than an obligation. "Biking," the sunny lo-fi bop featuring Tyler, the Creator and Jay Z that he released Saturday during his Blonded Radio show, is no exception. Ocean's rare hype-immune mystique aside, it is truly life-giving.
It manages to take a veteran Jay and make him feel like a searching student of music again, as he tries to find footing over the opening's beatless, bleary piano. Tyler experiments with more traditional flows to show he can ball just as hard as the next radio rapper; Ocean breaks into bizarre yawps towards the end, as if he too is psyched the track actually came together and sounds dope. Top to bottom, "Biking" feels like it was a joy to make, and it'll be a joy to spin when the summer breeze begins to sweep through. —Tom Barnes
Did it live up to the hype? Ocean's trained us to be prepared for new music at any moment, but this is still an unexpected delight.