British Vogue's new editor in chief could mean big things for diversity in fashion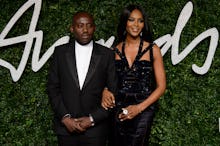 On Monday morning, British Vogue announced Edward Enninful as the magazine's new editor in chief.
He follows in the footsteps of Alexandra Shulman, who announced her exit back in January after 25 years at her post.
"I am pleased to announce the appointment of Edward Enninful, OBE, as editor of British Vogue effective Aug. 1, 2017," Jonathan Newhouse, chairman and chief executive of Condé Nast International, said in a statement. "Edward is one of the most talented and accomplished fashion editors in the world."
Enninful's appointment is historic for a number of reasons. Enninful is the first male to ever be named editor in chief of Vogue U.K.; he is the first black person to ever be named editor in chief of Vogue U.K.; and he joins people like Elaine Welteroth, the editor in chief at Teen Vogue, and André Leon Talley, American Vogue's former editor at large, as one of the few black people with high-ranking editorial positions at Vogue publications. 
Most importantly, Enninful — who was born in Ghana — brings with him a long record of championing more diversity in fashion. 
In 2014, during a speech at the Frederick Douglass Awards, he announced: "I can tell you, without diversity, creativity remains stagnant."
In a 2016 Time interview with Naomi Campbell, Enninful said of diversity: "If you put one model in a show or in an ad campaign, that doesn't solve the problem. We need teachers in universities, we need internships, we need people of different ethnic backgrounds in all parts of the industry. That really is the solution, you have to change it from the inside." 
Enninful also led Vogue Italia's groundbreaking "Black Issue." The edition was so successful, Condé Nast ended up printing an extra 40,000 copies, according to Business of Fashion.
Given this record, plenty of Vogue fans are thrilled with the announcement and see it as an encouraging sign for diversity in fashion. 
"I think in a larger cultural sense, knowing the cultural divide of England — and London in particular — in the '80s and especially how divided fashion used to be, I think this appointment speaks volumes a) for his talent and b) on a cultural level," famed casting director James Scully said in a statement to Mic. "There are times fashion can be so behind the times, and I feel like this just skyrocketed a lot of real positivity. I almost can't articulate how excited I am for him and that this has happened."
For British Vogue particularly, the move couldn't come at a better time. In the past few months, Vogue U.K. has had a number of controversies surrounding its lack of diversity. For example, its so-called "Real Issue" in October, which featured non-models, failed to feature plus-size women or many women of color. 
But with Enninful at the helm, the glossy has a much better chance of becoming an example to other magazines for how to do diversity right.