A top Trump adviser says Jared Kushner is like Alexander Hamilton — he's not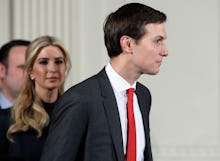 Just when you thought that Hamilton references couldn't get any more tortured, Trump adviser and confidant Anthony Scaramucci hit us with this incredible description of Trump's son-in-law, Jared Kushner.
"I think he's like Alexander Hamilton," Scaramucci said of Kusnher on CNN's New Day." He's a young man who has a tremendous amount of maturity about him ... He's got the trust of the president, he's very, very thoughtful, he knows how to bring people in — if you read Chernow's book about Hamilton, that was Hamilton's great gift at a very young age. So, Jared has that."
First thing's first, Scaramucci is a multi-millionaire who runs a hedge fund within walking distance of the Richard Rogers Theater, so don't try to suggest his timely fascination with Alexander Hamilton came from reading the Ron Chernow biography.
Second, Kushner is nothing like Hamilton. Unlike the now-famous orphaned immigrant rags-to-riches story of the nation's first treasury secretary, Kushner was born into a wealthy real estate dynasty in Livingston, New Jersey. 
Though both are often thought of as wunderkinder, Hamilton earned that reputation by being a proponent of aggressive, radical policy proposals like the creation of a national bank. Kushner may have been given the unofficial White House position of "secretary of everything," yet he hasn't really accomplished much of anything in the Trump administration — with nary an ambitious public proposal in sight.
Despite the recent lionization of Hamilton as some kind of liberal immigrant rights hero, however, there are aspects of his life that place him much closer to the Trump agenda. Hamilton was an unabashed defender of financial elites and an opponent of new waves of immigration; he supported the Alien and Sedition Acts.
Even here, though, the comparison to Kushner falls short: Hamilton emphatically mistrusted the populism of his own era and loathed ignorance. It's hard to see Alexander Hamilton ever taking orders from Donald Trump, a bona fide populist who's displayed considerable ignorance on everything from history to health care.