Senior Trump official drew plan to divide Libya on napkin for horrified European diplomat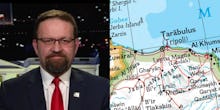 During a meeting with a senior European diplomat, senior White House official Sebastian Gorka reportedly drew up an alarming proposal to split Libya into three parts. 
The map Gorka drew divides Libya back into the Ottoman-era territories of Cyrenaica, Tripolitania and Fezzan, the Guardian reported. The European diplomat allegedly responded by saying it would be "the worst solution" for Libya.
Since the violent revolution that overthrew Libyan leader Muammar Gaddafi, Libya has been torn between two factions supporting entirely separate governments. On one side of the new civil war is the U.N.-backed Government of National Accord, and on the other is a faction led by General Khalifa Haftar. With no clear end in sight, world powers like Russia and Turkey have been stepping up to offer support for one side or the other.
Gorka, who believes that extremism abroad is the product of Islam rather than the perpetual conflict and devastation of the Middle East, is vying for the made-up position of special envoy to Libya.
Gorka's has made waves lately is for his affiliations with Vitézi Rend, a Hungarian group with such strong ties to Nazis that its members are considered "inadmissible" as immigrants to the U.S. Gorka insists he has no membership in the group, but the group has said it is "really proud" to see him so high in the world.