'Pokémon Go' 1.31.0 Hack: New version of Pokémon Go++ hack released for 1.31.0/0.61.0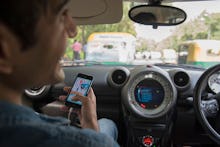 Niantic released a new patch for Pokémon Go on Friday, and although it didn't bring many changes to the game, it's still a patch. This means GPS spoofers using the Pokémon Go++ app will have to download the new version to go with the game's fancy new loading screen — featuring a Steelix, no less. 
As usual, what you choose to do in Pokémon Go is your prerogative, but we would be remiss if we didn't tell you using Pokémon Go++ might get your account banned. Proceed at your own peril.
Pokémon Go 1.31.0 hack: How to download the new version of the Pokémon Go++ hack
Per iBlogApple, the basic steps to download the hack haven't changed much since 1.27.4. You have to delete Pokémon Go from your phone, download the newest Pokémon Go++ iPA file — in this case, 1.31.0 — and download an impactor program onto your computer. You'll then use the impactor program on the iPA file while your phone is connected to the computer and enter in your Apple ID. The impactor will start installing Pokémon Go++ on your device.
Presumably, the same rules for the 1.27.4 version of this hack apply, so you'll have to re-download the iPA file to your phone every week or you won't be able to use the app anymore. However, don't expect to get all the same features you're used to. According to iBlogApple, the hack's IV reading function has been removed and some features of the newest version are hidden behind a paywall, so you'll have to throw Pokémon Go++ a few bucks if you want the full suite of hack advantages again.
Pokémon Go 1.31.0 hack: What are the issues with the new hack?
As we've stated, it could get your account banned, which should probably function as the hack's biggest issue. The fact some features of the hack are now hidden behind a paywall can make having to download an impactor onto your laptop a pretty bitter pill to swallow, too.
Additionally, Pokémon Go is an online game, which means your actions have an impact on other players. Whether that's using an IV reader to see how strong a potential Pokémon will be before you catch it or using a GPS spoofer to take hard-to-reach gyms and maximize the PokéCoins in your digital coffers, you're affecting the game for players who don't use the hack and forcing Niantic to devote resources to combat spoofing instead of working on new content, like the Gym update or proximity trading.
In short, you're free to do what you want, but you should probably weigh how much you want to be able to play Pokémon Go without leaving your house with how much you'd like to see new content for Pokémon Go before you decide.
More Pokémon Go news, updates, tips and tricks
Check out Mic's Pokémon Go guides on how to get stardust, how to determine how long it will take you to reach level 40, the kind of Pokémon you get from 10-kilometer eggs, how to create new PokéStops, how to maximize your chances of catching Pokémon and how PokéStops distribute Pokémon eggs. Also check out how to catch Gen 2 baby Pokémon, our analysis of post-balance update Chansey and Rhydon and everything you need to know about finding the long-awaited Pokémon Ditto.