This packaged THC helps you make perfectly dosed edibles out of practically anything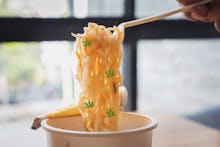 Making edibles typically requires cannabis-infused butter or oil — and both can be a real hassle to DIY. You have to cook the butter or oil with ground cannabis for 20 minutes to 6 hours (depending on whether you use a stove or slow cooker) and then you need to strain out the cannabis.
But a new product from Denver-based company Stillwater will help even the most novice chefs create homemade edibles — no cannabutter or cannaoil required. 
Enter: Ripple, a packet of water soluble THC that can be stirred into practically any food or drink. If you'e ever imagined a brave new world where you can feel calm, peaceful and relaxed after slurping ramen or snacking on homemade guacamole, your delicious dreams are about to become reality.  
Ripple's individual packages make dosing your edibles easier than ever before, too. Each tub of Ripple packets retails for $24 and contains 10 packets of dissolvable THC. Currently, the product can only be purchased at Colorado dispensaries. 
How to use Ripple to make edibles
Stillwater sells three types of Ripple: There's Sativa, Indica (two different strains of cannabis) and "CBD," a 1:1 ratio of CBD and THC. (All three products have 5 mg of THC, though Bradley noted that in the future, Stillwater will discontinue the Sativa and Indica products. Instead there will be a 5 mg THC option and a 10 mg THC option.) 
For home bakers, dosing edibles can be next to impossible because it's difficult to tell how much THC is in a given cannabutter or cannaoil, and how much of that goes into every serving of special brownies you're baking. But with pre-portioned packages, Ripple simplifies the process. You can make a single serving recipe (mug cake, anyone?) by using one packet. Preparing snacks for a crowd?  Adjust how many packets of Ripple you add to the chocolate chip cookie recipe.  
Since the product dissolves in cold and hot foods, you can use it in anything and everything. Think: Guacamole, waffles, ice cream, lemonade, salsa — you name it. 
How Ripple tastes
"Even in water, it has very little taste," Missy Bradley, cofounder of Stillwater, said in an interview. "It's more just a soft feeling on the back of your tongue." Because Stillwater uses a marijuana distillate instead of an oil, the terpenes, which are responsible for marijuana's grassy flavor, are removed. 
The nonexistent taste means Ripple won't sully the luxurious flavor  of chocolate fondue or queso. 
Translation: You can make THC-infused brownies that won't have a lingering weed taste. The nonexistent taste means Ripple won't sully the luxurious flavor of chocolate fondue or queso. 
The lack of taste is thanks to how Stillwater makes Ripple and the granulated THC it uses in Stillwater and Whitewater, the company's two types of of TCH-infused tea. Stillwater combines THC distillate with emulsifiers and ingredients like coconut oil and sorbitol, Bradley explained. 
"We turn the oil and the coconut oil into a big slurry, we heat it up, spin it around, whip it and spread it into tons of little crates," she said, noting the crates then go into a dehydrator and then the company granulates the product. (In other words, Stillwater turns it into small, salt-like grains that can dissolve in water.) 
Some of the many things you can do with Ripple: 
Add it to instant ramen.
Sprinkle it in queso.
Make a matzo ball soup more comforting than your bubbe's.
Really relax with some lemonade.
What kind of high to expect from Ripple
One "serving" or dose of marijuana in Colorado is 10 mg. At 5 mg per packet, Ripple contains half of that — which is considered a "microdose" by some herb enthusiasts. 
"Ripple gives a smoother up and down than most other edibles." Missy Bradley, Ripple founder
A microdose leads to a relaxed but still-in-control feeling.. While taking multiple hits from a joint might make you feel completely incapacitated, microdosing is said to deliver a slight and peaceful buzz. 
"Ripple gives a smoother up and down than most other edibles," Bradley noted. "Most edibles take a while to hit you because you're waiting to metabolize them. With Ripple, some of the cannabinoids are absorbed under your tongue and through your palette. So you have a quicker onset." Some of the cannabinoids are also metabolized, resulting in an "extended release" of an edible, she said. 
You'll metabolize Ripple in 15 to 30 minutes as opposed to the two-hour standard for most edibles, Bradley noted. With rapid intake, there's less of a chance that someone will bite off more THC than they can handle and have a bad experience. 
Bradley hopes Stillwater's products can make edibles more approachable. "We want to be seen as a functional foods company," she said. "Our biggest obstacle is reaching people who don't go into dispensaries because they think there's nothing for them."