'Girls' Season 6, Episode 10: 3 things we want to see happen in the series finale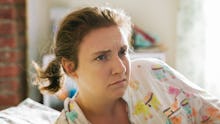 It is time to say goodbye to HBO's Girls. 
In season six, episode nine, the show set the tone for what we can expect in the series finale. Lena Dunham's series comes to a close on Sunday, April 16, after six seasons, and we're not quite ready to say farewell to Hannah, Marnie, Jessa or Shoshanna just yet. 
(Editor's note: Spoilers ahead for season six, episode nine of Girls.)
The penultimate episode of the series had the women of Girls address their rocky friendship. Over the course of the series, it had become more than apparent that the four girls weren't actually that good of friends. In Sunday's episode, titled "Goodbye Tour," the four friends said so long to each other and their remaining friendships. 
Looking forward as to what may come next for Hannah, it is time for her to grow up and do it fast. With a baby on the way and a life-changing decision, these are three things we'd like to see happen in the series finale of Girls.
1. Hannah becomes an adult
Over the course of season six, we've watched Hannah go through the stages of her pregnancy. From the shocking reveal, to her telling the father, we've been on the emotional journey with her. 
In the series finale, we should expect Hannah to give birth to her child. We learned in episode nine that Hannah is having a boy, so maybe we can expect a spin-off set 25 years into the future called Boys with Hannah as a mom.
Hannah also accepted a job offer at a liberal arts college in upstate New York, which would take her out of the city. A baby and a job make three, so hopefully the series finale will give us a glimpse into Hannah's adult life.
2. Elijah becomes a star
In the second-to-last episode of the series, Elijah got the job. After four tiring callbacks, he got the part in the White Men Can't Jump musical adaptation. 
Since Elijah has had a major role this season, we hope the finale gives us a look into the future for what's to come for the upcoming broadway star. We hope that wherever Elijah and Hannah end up, they remain friends, as their relationship has been the only lasting one for her. 
3. The other girls move on 
The girls confronted their crumbling friendship in "Goodbye Tour." After coming to the decision that the four of them weren't working as friends anymore, they appear to be ready to go their separate ways.
We also learned that Shoshanna is engaged and is set to get married. Maybe that's why she's been missing so much this season? She's been busy falling in love. 
After being evicted from her place, Marnie is going to start over again. Jessa's brief lapse in judgement in episode 8 was almost cause for concern, but it appears she and Adam will remain together... for now. With their lives moving in different directions, all of the girls are going their own ways. 
You can catch the series finale of Girls on Sunday, April 16, at 10 p.m. on HBO. 
Mic has ongoing TV coverage. Please follow our main TV hub here.