April the Giraffe Live Stream 2017: Is April close to giving birth?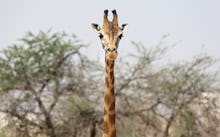 For the past few months, animal lovers around the world have tuned in to April the giraffe's livestream, waiting with bated breath for the pregnant giraffe to give birth. Now, April's big moment could potentially be imminent.
April the giraffe, who is housed at the Animal Adventure Park in Harpursville, New York, has been moving around more as of late — which could be a sign that she's getting ready to give birth, her keepers suggest.
"Our big girl seems to be moving around quite a bit! That is a good thing! Moms will get very "pacey" before and during birth. ... We will see if it is any indication as to what is to come," a Sunday night update on the Adventure Park's Facebook page said.
On Monday morning, the park issued another update, which told viewers to watch for behavioral changes and noted the keepers are now waiting for "increased pacing" from April. This would signal that active labor has begun.
Once the big moment arrives and April's 15-month pregnancy comes to an end, WDIV noted, the giraffe could be in labor anywhere from a few hours to an entire day. Once born, April's calf is expected to be approximately six feet tall at birth and weigh about 150 pounds. Though the calf will be April's fourth child, it will be her first time giving birth at the Animal Adventure Park, and the first giraffe calf to be born at the educational zoo.
Since launching in March, the Adventure Park's April livestream has become a viral sensation, racking up over 15 million total views on YouTube. A GoFundMe page established by the New York zoo has received more than $120,000 in donations, far surpassing the page's $50,000 goal.
"Instead of local or regional we're global," Cortney Whalen, a spokeswoman for zoo owner Jordan Patch, said about the livestream, WDIV reported. "It has definitely broadened the general awareness of the park."