Christian Siriano talks politics on the runway and why he won't be dressing Melania Trump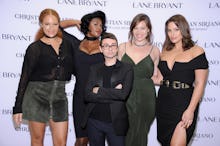 At New York Fashion Week this February, Christian Siriano was one of the many designers who decided that this time around, politics had a place on their runway. In Siriano's case, that meant sending a model down the runway wearing a black T-shirt that read "People are people" in bold white script. 
It was pointed. It was powerful. And according to Siriano, it was just the right time. 
"I think what's happening in our world, and everything out there, there is so much hate," Siriano said in an interview with Mic. "My point wasn't political, but just that we all need to take a step back and understand that people are people and we need to support one another." 
Plenty of others thought it was time too, with designers like Naeem Khan, Prabal Gurung and Mara Hoffman all using their fashion shows as an opportunity to let their politics be known, either with T-shirts like Siriano's or speeches from Women's March organizers. According to Siriano, the runway is actually one of the very few opportunities when designers can actually make a statement. 
"I think for fashion designers, our only chance to get things out there is what we present on a runway or in our campaigns," Siriano said. 
Just weeks into the Trump administration, Siriano already feels that designers have an obligation to at least make their views known, especially because fashion is indebted to some of the people Trump has already targeted, from women to immigrants. 
"All of our companies rely on immigrants and women and people of different cultures," Siriano said. "Our entire business is filled with all those things and those people. We sell at retailers around the world. Designers have a big voice now. The consumer is very different now."
The consumer is aware thanks in large part to groups like Sleeping Giants and movements like #GrabYourWallet. Because of that, Siriano also has thoughts about dressing Melania Trump, or anyone affiliated with the Trump administration, really. 
"I want to say it doesn't really have much to do with [Melania], but sadly it kind of does because she has a voice," Siriano said. "Michelle Obama was one of the most outspoken first ladies we've ever had. And Melania, well, doesn't speak. That's just a problem. Since she agrees with the political climate, then it wouldn't make any sense for any designer to support her, whether they're gay or a woman. Someone who has immigrants in their office, it just wouldn't make sense. That's just unfortunately how it is." 
Much like designers like Tom Ford and Derek Lam, Siriano, who dressed Michelle Obama at the Democratic National Convention, is wary of the new first family, and helping them in any way. 
And so fashion's reluctance against the Trump administration — and some of its most public values — lives on.