Who is Joseph Jakubowski? Latest on manhunt for armed Wisconsin man behind Trump manifesto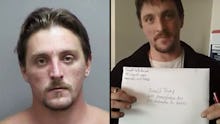 Authorities are currently seeking a Wisconsin man suspected of stealing a stash of firearms, and who penned an anti-government manifesto for President Donald Trump. 
According to NBC News, more than 150 officers representing state, local and federal law enforcement have launched a manhunt for Joseph Jakubowski, 32, who allegedly absconded from the Armageddon Gun Shop in Janesville, Wisconsin, with 16 guns on Tuesday. 
Police have deemed Jakubowski "armed and dangerous" and are upping security at churches because of the strong "anti-religion sentiment" expressed in the 160-page screed Jakubowski is believed to have mailed to Trump at the White House. A video released Friday shows a man who looks to be Jakubowski mailing a thick envelope to the president. "Revolution," he says, brandishing the package, "It's time for change."
"Remember this face," adds to the man filming. According to NBC, police have identified the camera man and pegged him as a person of interest. 
The manifesto reportedly reflects vehemently hostile views toward the government in all its forms.
"Basically he's angry at all government officials," Rock County Sheriff Robert Spoden said at a Friday press conference, according to NBC. "Whether it's the president or whether it's local officials or whether it's law enforcement, he has a dislike for anyone that has authority or governmental power."
According to CBS, authorities found a burned car registered under Jakubowski's name near the gun store on Tuesday. Police believe he has a bullet-proof vest and a helmet, and that he is still in the area around Janesville, waiting on police presence to thin out. CBS reported that agents from the FBI; the Bureau of Alcohol, Tobacco, Firearms and Explosives; the Janesville police department; the Rock County Sheriff's Office; and auxiliary officers from Minneapolis and Chicago are conducting the manhunt.
NBC reported that Jakubowski has a felony conviction for a 2008 incident in which he tried to take a police officer's gun, plus a series of misdemeanors. He stands roughly 5-foot-10-inches tall, with green eyes and brown hair. Law enforcement has already received hundreds of tips, while the FBI is offering a $10,000 reward to anyone with information that could help them catch Jakubowski.