'Girlboss' review: Netflix's Nasty Gal origin story is mediocre. Then episode 4 hits.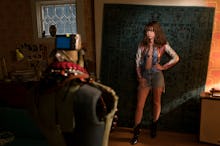 It's almost a cliché at this point that a Netflix show only gets good after the first few episodes. BoJack Horseman takes the first three to six, depending on who you ask, before it becomes sublime TV. The first half of Unbreakable Kimmy Schmidt's second season pales in comparison to the back seven episodes. It's so understood at this point that the "it gets good" paradigm received a joking call-out in the New York Times.
But I'm not sure I've ever seen a show take such a quantum leap in quality as Girlboss, the semi-true story of Nasty Gal founder Sophia Amoruso, created by Pitch Perfect scribe Kay Cannon. For the first three episodes, Girlboss is decent at best, aimless at worst and lacks a distinctive voice throughout. As soon as episode four hits, though, the series takes sharp shape, with a charmingly acerbic voice and a fascinating idea of who Sophia is.
Sophia starts out about as down on her luck as you could imagine. She's stealing rugs and sleeping on them in parks in her hometown of San Francisco. She's caustic to everyone around her and uninspired to do much of anything. But all it takes is one stroke of luck — picking up a vintage leather jacket for a few dollars and selling it for a few hundred online — to turn her life around.
Off this sale, Sophia comes up with an eBay store idea (one of the many ways the show reminds you it is firmly set in the mid-2000s) that she describes as "flipping clothes" the way others flip houses. She takes vintage wear, gives it a little spritz and sparkle, then resells it for huge profit. What starts as a hobby becomes a life path, one that Sophia finds direction and power in.
If this were just Amoruso's origin story, however, it wouldn't prove that interesting on an episode-to-episode basis — and like 13 Reasons Why before it, Girlboss lasts for the increasingly archaic full 13 episodes of a season — though at least they're all less than 30 minutes. (Stranger Things' eight-episode first season should be a guiding light to all Netflix shows, frankly.) 
Luckily, after the third, all of those episodes really work as their own stories. In one, Sophia's trying to get a wedding dress to a venue in Marin on time in a fun riff on a 24-style time trial plot. Another explores Sophia's friendship with Annie, her longtime best friend, complete with fun flashback sequences. Perhaps the series' best episode explores the world of vintage clothing fan forums, complete with jokes about the internet culture of the mid-2000s.
None of these jokes feel like reaches for nostalgia, remarkably, but feel like natural outgrowths of setting a story in such a specific period. During one episode, Sophia refers to the episode of The O.C. where Marissa Cooper dies as the most important TV moment of her life — with just the right amount of earnestness. It's not an overly broad wink at her naïvete, but a firm grounding in Sophia's time. Back then, The O.C. did feel like a touchstone; to hear Sophia wax poetic about it takes us back to that space too.
While the writing and many of the directing choices are strong, it's the performances that really make Cannon and her team's concept sing. Britt Robertson is fantastic as Sophia, caustic without becoming bitter, charming without ever sacrificing the edge that makes Sophia a true Nasty Gal. 
Robertson gets a great band of supporting players to work with, especially Ellie Reed as Annie. Most delightful are the show's gay characters, who help the San Francisco setting feel more than just cosmetic. RuPaul turns up for what seems like a cameo in the pilot as a neighbor of Sophia's, but develops into a full recurring role over time. He's perfect at delivering the broadest comedy, while Cole Escola brings everything about his Difficult People performance that works and applies it here, playing a melodramatic art school twink.
There are moments of Girlboss beyond those first three episodes that don't work — especially the early focus on Sophia's hernia, a story that wraps up quickly and doesn't amount to much. But when Girlboss works, it has a voice and a subject matter unlike much else on TV right now. It's the kind of show you'll enjoy watching, but find yourself even more eagerly awaiting season two to see what Cannon, Robertson and their crew whip up next. 
Girlboss hits Netflix in full April 21. Consider skipping episodes two and three when watching; you'll get the gist skipping from the pilot to episode four.
Mic has ongoing Netflix coverage. Check out our main Netflix hub here.