A Pink Moon is coming April 10. Here's how to see it.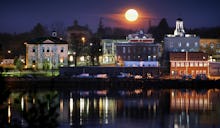 What's a Pink Moon? It's another name for April's full moon, and you can catch it in the sky through the early hours of April 11.
Those expecting to see a rosy hue might be disappointed. According to Space.com, the Pink Moon got its name because it coincides with the appearance of a pink flower called the moss pink or phlox. Other names for April's full moon include the Egg Moon, Fish Moon and Sprouting Grass Moon.
April's full moon will likely appear in its usual color, but it should still be a sight to behold. The moon will be accompanied in the sky by Jupiter and the star Spica, the Palm Beach Post reported, meaning Monday night's sky gazers will have plenty to see.
Pink Moon time
The full moon will be at its peak at 2:08 a.m. Eastern on April 11, when the moon and sun will be on the exact opposite sides of the Earth, Space.com reported. Casual observers will find that the moon appears full all the way from April 10 to April 12. 
Sky gazers who want to know exactly when the moon rises and sets in their area can use Time and Date's moonrise and moonset calculator.
The timing of the Pink Moon has a special significance for spring holidays, the BBC noted. Easter's date is set each year as the first Sunday after the first full moon following the Spring Equinox. The April full moon also marks the start of Passover.
How to see the Pink Moon
Want to see April's full moon? While spotting it is as easy as gazing upward, those hoping for the clearest view can consult the light pollution map to find the perfect moon-viewing spot in their area. 
It might be best to use just your eyes or a small pair of binoculars to get a closer look. As Space.com explained, the brightness of a full moon and lack of shadows make the details on its surface harder to see, particularly for those using a large telescope.