'MLB The Show 17' How to Download Full Minor League Rosters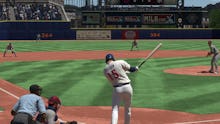 If you're a hardcore MLB The Show and franchise mode fan, one of your annual traditions might be to wait for the Operation Sports community to complete their Full Minors roster project before getting into the swing of things with the newest baseball game from Sony.
If that's the case, your season in MLB The Show 17 is ready to begin. Steve Noah of Operation Sports tweeted the good news:
On Saturday, the roster was completed and one scan through this year's renders and ratings proves the guys at OS have done some of their best work.
Why Do You Need a Full Minors Roster?
In case you're wondering why this roster is such a big deal each year, it's because Sony doesn't have a license to use minor-league players in their game.
However, users are able to create and edit all players in the game, including those on Triple-A, Doubtrle-A and Single-A teams.
Each year, members of the Operation Sports community, specifically ridindwnkingsley and his team, go through the task of renaming and re-rating all of the players in the minors to match the real-life affiliates for every MLB team.
You'll notice some minor leaguers such as the Chicago White Sox's Yoan Moncada were already in the game. That's because Moncada has major-league time from a previous season, thus he's covered under Sony's license with the MLB Players Association.
Others such as top prospects like Ian Happ and Gleyber Torres aren't. Thanks to ridindwnkingsley and co., awesome renders of Happ and all other minor leaguers are now accessible.
How to Download Full Minors Roster on MLB The Show 17
The name of the roster is: #OSFM17 Opening Day V1.
You can find it by going to Vaults on your MLB The Show 17 main menu. Select roster vaults, then browse rosters. Since this is one of the more popular rosters, you may see it near the top of the long list of user-created content.
If you sort by current rosters and look for the roster title and/or the creator of the content, you should be able to find it.
Once it's been downloaded, save it as the current roster in the data utility tab. Then simply begin a franchise mode with the current roster loaded and you'll have the most realistic and complete rosters available.
More sports gaming news and updates
Are you a sports gamer? Check out more content from Mic, including tips for leveling up your NBA 2K17 MyPlayer, playing quarterback in Madden 17, our review of MLB The Show 17 and the classic Nintendo sports games we want to see on the Switch.