Team Trump is all over the place on Syria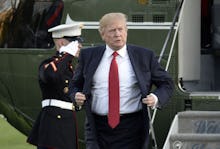 On Sunday Trump dispatched his top diplomatic officials to tout his administration's policy on Syria and President Bashar Assad. Unfortunately, he apparently forgot to tell them what that policy was.
In two Sunday appearances — NBC's Meet the Press and CNN's State of the Union — United Nations Ambassador Nikki Haley suggested that the Trump administration's position has moved a lot closer to something like regime change.
"There's not any sort of option where a political solution is going to happen with Assad at the head of the regime," Haley told CNN's Jake Tapper. "If you look at his actions, if you look at the situation, it's going to be hard to see a government that's peaceful and stable with Assad."
She also said getting Assad out of power was a "priority" for the administration and that "regime change is something that we think is going to happen."
That position is a far cry from Trump's position on the campaign trail, where he said America should focus less on removing Assad and more on fighting ISIS in Syria, even if that meant working with the Russian forces deployed in the region to help Assad.
Last week Trump told the press that his attitude on Syria had "changed very much," and Thursday's strike seemed to represent a shifting approach to dealing with the Assad regime.
But if Trump's position on Assad really has changed, it seems no one told Secretary of State Rex Tillerson. Just as Haley was declaring on two major news networks that Assad must go, Tillerson appeared on ABC's This Week With George Stephanopoulos to assure people that Trump's position on Assad had not changed.
"You know, we've seen what that looks like, when you undertake a violent regime change in Libya," Tillerson said. "And the situation in Libya continues to be very chaotic. And I would argue that the life of the Libyan people is not all that well off today. So I think we have to learn the lessons of the past and learn the lessons of what went wrong in Libya when you choose that pathway of regime change."
There are at least two possible explanations for the contradiction between Tillerson's and Haley's comments: Either one of them is unaware of what Trump's actual position is or Trump's position is ill-defined enough that members of his administration are freelancing with their own foreign policy views. Neither is particularly reassuring.
Highlights
Today: Neil Gorsuch is sworn in as the United States' 113th Supreme Court justice.
More: Pulitzer Prizes will be announced today at 3 p.m. Eastern. How will coverage of Trump do, and how will Trump react?
Even more: Democrats are split over Syria. How will they grapple with their first chance to respond to Trump's foreign policy?
Trump's schedule: Trump will attend new Supreme Court Justice Neil Gorsuch's swearing-in ceremony before meeting with his budget director ahead of upcoming debate on tax reform.
The U.S. reroutes warships to Korea
The U.S. has rerouted an aircraft carrier and multiple other U.S. vessels toward the Korean Peninsula, the New York Times reported. The move appears to be a show of force after the recent test of a North Korean intermediate-range missile. As U.S. military involvement in Syria escalates, Trump has also been signalling that he will take a more hardline stance with North Korea. On Friday NBC News reported that Trump was considering the unprecedented move of placing nuclear weapons in South Korea as a way of deterring North Korean dictator Kim Jong Un.
Bannon and Kushner supposedly bury the hatchet
After reports of acrimony between two of Trump's closest advisers, his son-in-law Jared Kushner and his chief political strategist Steve Bannon, the two have supposedly met to "bury the hatchet," according to Politico. The meeting comes after a report in the Daily Beast alleged that hostilities between the two men had reached a fever pitch in recent weeks, and that the alt-right affiliated Bannon had referred to Kushner, who is Jewish, as a "cuck" and a "globalist." While both are epithets associated with the alt-right, the latter has particular anti-Semitic undertones.
Senate hawks are warming up to the Trump agenda
Sens. John McCain (R-Ariz.) and Lindsey Graham (R-S.C.), normally Trump's most outspoken Republican critics, are thrilled with his decision to strike Syria. "I've never been more encouraged by the Trump administration than I am today," Graham said on NBC's Meet the Press. On CBS' Face the Nation, McCain called the strikes an "excellent first step" and an important "reversal" from the policies of Barack Obama.
Donald Trump is "starting over" with his tax plan
The Associated Press reported that Trump has completely abandoned his tax plan from the campaign trail and started over in an attempt to craft legislation that will appeal to different factions of the Republican Party as well as to Democrats. According to the AP report, this change will push back the August deadline for tax reform set by Treasury Secretary Steve Mnuchin. Republicans already face an uphill battle with tax reform: Their caucus is bitterly divided over issues like the border adjustment tax, a tax on imports that has major corporate titans and outside groups pushing in opposite directions.
News and insight you cannot miss:
Vice President Mike Pence records a robocall as Republicans look increasingly worried about tomorrow's special election in Kansas. (Washington Examiner)
Progressive groups are pushing back against Democratic support for Trump's strike. (Mic)
A new lawsuit demands access to the White House visitor logs. (Politico)
New York may become the largest state to offer free public college this year. (Mic)
A top Trump associate thinks Jared Kushner is "like an Alexander Hamilton." (CNN)