When is Easter this year? 2017 date and what to know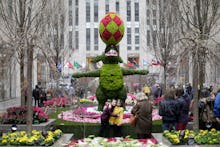 Get your eggs painted and your chocolate bunnies ready: Easter Sunday is almost here.
Easter Sunday, which marks the resurrection of Jesus Christ, will take place this year on April 16, 2017. The holiday will mark the end of Lent and Holy Week, as well as the last day of the Easter Triduum, which includes Holy Thursday (April 13), Good Friday (April 14) and Easter Sunday.
The annual spring holiday does not have a fixed date, but is rather a movable holiday. Easter's date, the Old Farmer's Almanac notes, is determined as the first Sunday following the first full moon after the vernal equinox. The holiday will always fall on a Sunday between March 22 and April 25. 
The Eastern Orthodox Church, however, uses the Julian calendar, the Almanac notes, meaning their Easter dates are slightly different. In these churches, the holiday is celebrated on a Sunday between April 4 and May 8. Though the two Easter dates happen to both fall on the same date this year, they'll diverge in 2018 and 2019.
The origins behind the word Easter itself are similarly unfixed. According to the Almanac, possible inspirations for the holiday's name include Eostre, an Anglo-Saxon "dawn goddess" whose feast was celebrated during the spring, or derivations of words for "rising," "dawn" or "east."