Rapper Zebra Katz unveils his debut unisex fashion collection, fractal face masks and all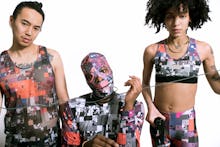 In the trajectory of a rapper's career, along with diss tracks and Maybachs, venturing into fashion is par for the course. Wu-Tang Clan's Wu-Wear, Diddy's Sean John or Jay Z's Rocawear are all examples of this trend done right.
But Zebra Katz, the 30-year-old from South Florida, is no ordinary rapper, having been out as queer since his entry into what is often perceived to be a deeply homophobic industry. So when it came time to check the box of this career milestone, he opted to do it with a twist, making the entire collection unisex. 
"Since I spend half of the year touring without merchandise to sell, I wanted to create a collection that could work as an online merch store and also something to incorporate into my live shows that still reflects elements of the ZK brand and vision," Katz said in an interview.
"I used to make and sell rhinestone bandana halter tops in school during the late '90s as a costuming minor in the theater department, so I've always wanted to be designer of fashion," Katz explained. "In high school I held my first fashion show with girls from the step team as models."
The 27-piece performance-wear fashion line, a collaboration with Print All Over Me, includes fractal face masks, short sleeve jumpsuits, leggings, running shorts and more. The theme of the collection, which ranges from $28 to $160: overstimulation, explicitly so.
Logo. Repeat. Pattern. Masked. Unmasked. Data overload. These are just some of the words Katz uses to describe the collection, which utilizes symbols and imagery mimicked in the artist's prose and performance. "This collection ventures seamlessly from loungewear to performance art, from workout wear to street style," he says. "It is as playful as it is hard. It is at once highly designer and off the cuff."
Asked to expound on the fractal masks, Katz was coy, saying: "You'd have to untie me first," before adding: "Anyone who has seen my live show would know: its all about the reveal."
Next up for the rapper: a feature on the upcoming Gorillaz album, Humanz, out in late April, and continuing to record his debut album while touring across Europe.
In the meantime, peep the entire collection here.