5 educational movies to watch for Sexual Assault Awareness Month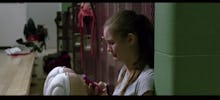 April has been declared National Sexual Assault Awareness and Prevention Month. At the heart of raising awareness and supporting prevention is education. Educating oneself about a sensitive, painful and extremely personal subject may seem challenging, especially when there exists a wide array of resources from which to learn. 
Film is one of the many educational resources available. Both fictional and documentary films have explored the subject of sexual assault, so check out the following options and get to watching.
1. The Invisible War 
This investigative documentary, which tells viewers sexual assault is considered an "occupational hazard" of serving in the military, inspired Sen. Kirsten Gillibrand (D-N.Y.) to introduce a bill reforming how sexual assault is handled in the military. The film follows a group of victims and demonstrates the slanted and unjust system of prosecuting sexual assault in the military — and how little it protects the people who protect the country. 
2. Precious 
Set in 1987 Harlem, Precious follows the story of an illiterate African-American teenage girl. Raped by her father and pregnant with his child, she is also sexually abused by her mother and struggles with her body and overeating. Critically praised, Precious was considered both educational and inspiring. 
3. Boys Don't Cry 
This film, which earned Hillary Swank her first Academy Award, dramatizes the real-life story of Brandon Teena. A trans man, Brandon was the victim of a hate crime of rape and murder in Nebraska, where he had fallen in love with Lana Tisdel. Depicting the transphobia of Brandon's assailants onscreen, the film opened viewers' eyes to the hatred that existed in the real world. 
4. Tapestries of Hope
By telling the stories of the girls of Zimbabwe, Tapestries of Hope informs viewers of the virgin-cleansing myth that if a man rapes a virgin, he will be cured of HIV/AIDS. Betty Makoni, founder of the Girl Child Network, which is devoted to bringing awareness to victims of abuse as well as empowering them. 
5. Trust 
Directed by David Schwimmer, who recently released a series of short films about sexual harassment, Trust tells the story of a 14-year-old girl who, after being given a new laptop for her birthday, engages in a relationship with who she thinks is a fellow volleyball player at another high school. He turns out to be a man in his 40s who photographs and rapes her. The film, which Roger Ebert praised as "one of the year's best films," unflinchingly examines the aftermath of the assault and how the victim's life is altered, both at school and at home. 
Mic has ongoing sexual assault coverage. Please follow our main sexual assault hub.