'The Get Down': 6 aspects that make Baz Luhrmann's Netflix original completely perfect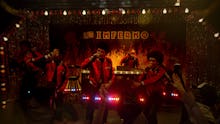 In case you haven't been sucked into the '70s disco wonderland that is Netflix's The Get Down yet, you're missing quite the party. Part two of season one dropped on April 7, and just like part one, it makes those who opt to stay home on a Saturday night feel like they got to go behind the velvet VIP rope too.  
The resplendent, larger-than-life cinematography that permeates this nostalgic series is due largely in part to creator and director Baz Luhrmann's iconic style. It's what put him on the map more than two decades ago with fan favorites like Romeo and Juliet and Moulin Rouge. And while the subject matter is far removed from the likes of Shakespeare and France's turn-of-the-century cabaret, that grandiose style still manages to fit the story succinctly. It's yet another time and place in which idealist artists painted a better world around them using their imaginations and, of course, music.
If Luhrmann's romantic view of the world speaks to you, here are six aspects of The Get Down that will have you rapping on rooftops yourself. 
The disco dancing
Not surprisingly, the dancing on this show is on another level. Disco was such a trademark of the '70s that it essentially becomes its own character here. It sets the stage for virtually every episode and acts as a stark contrast to The Get Down Boys rap parties.
The fabulous costumes 
Anyone who's familiar with Luhrmann's work knows he never skimps on costumes (Juliet's winged outfit for the masquerade ball, hello). Needless to say, the '70s with all its furs and sparkles, provided no end of inspiration. 
The graffiti
It's clear based on pretty much every establishing shot that Luhrmann understood the importance of graffiti in the Get Down Boys' neighborhood. Yes, Dizzie's role as a consummate graffiti artist plays a role in that, but it's also just always infused into the background, from the subway cars that outline the Bronx, to the walls of the burned out buildings. It represents creativity, yes, but more importantly it highlights freedom of expression — arguably what the entire series is about.
The controlling authorities
Marlene's hyper-Christian father, Juliet's over-controlling parents and the jealous Duke in Moulin Rouge — all of Luhrmann's heroines have difficult obstacles lording over them. Marlene's father, Pastor Ramon Cruz, played by the incomparable Giancarlo Esposito, is a force to be reckoned with to say the very least.
The poetry
Poetry comes in many forms. In The Get Down, it comes in the form of Ezekiel's — played by Justice Smith — provocative raps. They're often about love (of course), but they're also about struggling to become the person he so desperately wants to be.
Love is all-powerful
And finally, just as he does in every one his films, Luhrmann harkens on young love in all its intense, beautiful and ultimately fleeting glory. Ezekiel and Mylene's love story feels authentically young, but also like it has the power to go the distance and exist as powerfully in the present as it does in the past.
April 11, 2017, 9:23 a.m.: This article has been updated.
Correction: April 11, 2017
Mic has ongoing Netflix coverage. Please follow our main Netflix hub here.