Sergio Garcia Net Worth: How much a Masters win pays out and what Justin Rose gets, too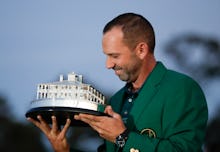 Sergio Garcia birdied an extra hole in a sudden-death playoff to be crowned winner of the 2017 Masters tournament, but he'll get a raise for his additional efforts. Golf Magazine reported the 2017 champ got a "sizable" pay increase, taking home a whopping $1.98 million versus 2016's payout of $1.8 million. That's a $180,000 bump.
As runner-up, Justin Rose will walk away with more than $1.18 million, according to Golf Magazine: not too shabby, either.
Garcia's win is being treated as a feel-good story. The Spaniard has been among the biggest names in golf since his second-place finish behind Tiger Woods in 1999's PGA Championship, but he's never before won the top prize.
Though it's taken Garcia a long time to win a Masters, he's still among the most successful golfers in the game. 
According to ESPN's list of "All-Time Money Leaders," Garcia has earned more than $44 million in winnings over the course of his career, the ninth-highest on record. He's also had a number of lucrative endorsements from companies like Adidas, which Forbes reported totaled $9 million in 2014.
Though he was edged out by Garcia during Sunday's final, Justin Rose is no slouch. He seems to have the edge when it comes to endorsements, netting some $12 million in deals in 2015 on top of $8.2 million in earnings, according to Forbes.  
That was high enough to put Rose at No. 82 on the magazine's annual ranking of highest-paid athletes in the world. 
Professional golfer earnings vary widely, according to the GolfSmith blog. If you teach in a club, for example, your earnings are low but relatively stable. If you play on the professional circuit, earnings range from more than $12 million on the high end to just a few thousand dollars for lesser-known players. The golfer at the middle of 2015's pack — Jonas Blixt, who ranked 130th — took home about $703,664.
While he's currently enjoying a moment in the spotlight, Garcia and his career is not without controversy: He came under fire in 2013 for making a racist joke about fellow golfer Tiger Woods. 
Sign up for The Payoff — your weekly crash course on how to live your best financial life. Additionally, for all your burning money questions, check out Mic's credit, savings, career, investing and health care hubs for more information — that pays off.