Donald Trump's modeling agency, Trump Models, is reportedly shutting down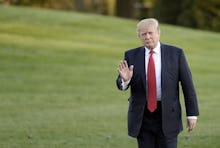 Trump Models, President Donald Trump's modeling agency, is reportedly shutting down. 
According to an email obtained by Mother Jones, the agency, which launched in 1999 and once signed the likes of Jerry Hall and Veronica Webb, has told business associates to prepare for its shuttering. 
"The Trump Organization is choosing to exit the modeling industry," Corinne Nicolas, president of Trump Models, wrote in the email. "On the heels of the recent sale of the Miss Universe Organization, the company is choosing to focus on their core businesses in the real estate, golf and hospitality space." 
"Trump Models, during its 18-year run, was an amazing success and we are immensely proud of the opportunities that we have provided to so many talented individuals," Nicolas continued. 
This marks yet another business failure for Trump, with the agency going the way of other Trump ventures like Trump magazine, Trump casinos and Trump Steaks. 
It's also not too surprising. On April 3, the Washington Post's Robin Givhan reported the agency was losing models and agents to rival agency Anti Management, which was launched by a former Trump manager and ironically boasts a feminist message. 
"Defections from Trump Models began last year as Trump's political rhetoric became ever more heated," Givhan wrote. "About six months ago, another one of the agency's top bookers, Patty Sicular, left. She had worked with the models in the agency's 'legends' division — older, high-profile women with established reputations in the industry — and several of them joined her at the new company she founded, Iconic Focus."
Just before the election, one model, Maggie Rizer, left the agency because of Trump's politics. 
"Today I had to do a hard thing, parting ways with my agent at Trump Models," Rizer wrote on Instagram. "That said, as a woman, a mother, an American and a human being, I cannot wake up Wednesday morning being the least bit related to the Trump brand, win or lose. I owe it to myself and to my children to proudly stand up for what I believe in and that is a world where Donald Trump has no voice for the future of our country." 
The agency's controversial past doesn't help matters, either. Before the election, Mother Jones investigated the agency's history of employing foreign models who worked in America without appropriate visas and providing harsh living conditions for the models. 
Mic has reached out to Trump Models for comment and will update this post if we hear back.