Dylann Roof pleads guilty to state murder charges, avoiding second death penalty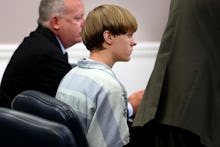 Dylann Roof, the South Carolina man who gunned down nine black churchgoers as they sat in a bible study session in June 2015, pleaded guilty to state murder charges on Monday.
According to the Post and Courier, Roof, 23, entered the guilty plea on nine counts of murder, three of attempted murder and a firearms violation as part of a deal with prosecutors to avoid a second death penalty. Instead, he received a life sentence. 
A self-avowed white supremacist, Roof was sentenced to death in January on 33 federal charges, including hate crimes and obstruction of the practice of religion. That sentence came after a grueling federal trial, where relatives of the Emanuel African Methodist Episcopal Church massacre victims gave heart-wrenching testimony about what it feels like to grieve the loved ones they lost.
The shooting, one of the most brutal racially-motivated attacks in recent American memory, occurred when Roof unloaded a .45-caliber Glock inside the church after sitting through nearly an hour of bible study with the black congregation members.
After the attack, police discovered Roof's manifesto, which contained diatribes against people of color and justifications and support for white supremacist ideology.