Janelle Monáe suggests women go on sex strike "until every man is fighting for our rights"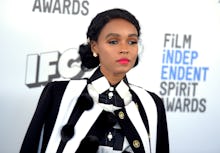 Janelle Monáe has a plan to achieve women's equality, one she proposed in a recent interview for Marie Claire's May 2017 issue. It would require just a touch of sacrifice on our part: No sex, not "until every man is fighting for our rights." Considering that a reported 56% of men believe sexism is over, this could take a while. 
Monáe is one of five women covering Marie Claire's "The Future Is Female" edition. Along with Emily Ratajkowski, Aja Naomi King, Zoey Deutch and Alexandra Daddario, she answered questions about female empowerment and the political landscape. When prompted for her thoughts "on respecting women," Monáe said:
People have to start respecting the vagina. Until every man is fighting for our rights, we should consider stopping having sex. I love men. But evil men? I will not tolerate that. You don't deserve to be in my presence. If you're going to own this world and this is how you're going to rule this world, I am not going to contribute anymore until you change it. We have to realize our power and our magic. Because I am all about black-girl magic, even though I'm standing with all women. But this year? This year, I am so care free black girl.
The concept of a sex strike dates back at least to the 411 BCE staging of Aristophanes' play Lysistrata in Athens. It's the story of women withholding sex from their husbands until those husbands forge a peace that ends the Peloponnesian war, and lends sex strikes their alternate title: "Lysistratic nonaction." 
The method has met with mixed success: Many sex strikes have failed, but in 2006 "Strike of Crossed Legs" helped end violence between feuding gangs. In the Philippines, in 2011, married women withheld sex to quiet violence that had kept two villages divided. 
In 2003, a Liberian woman named Leymah Gbowee organized a sex strike to end the country's civil war. In 2011, Gbowee won a Nobel Peace Prize for her campaign, crediting the media attention the strike attracted with the movement's success.
If every straight, cis woman around the world made the simultaneous decision to abstain indefinitely, it would probably grab quite a bit of media attention. Monáe's is a big and nebulous goal — she's probably being facetious, but there is something pleasingly misandrist about women worldwide withholding.