This reimagined Pepsi ad replaced Kendall Jenner with Standing Rock protesters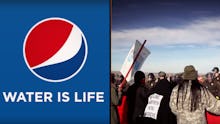 This is what a protest looks like. 
Using real footage from a variety of sources taken at the Standing Rock reservation in North Dakota, media company ThirtyRev created a new Pepsi ad to replace Pepsi's controversial ad campaign, which they pulled last Wednesday after receiving heaps of criticism. 
The original ad features a montage of people attending a protest that has no discernible cause attached to it. Kendall Jenner leads the protest, made up of people of color breakdancing and a woman in a hijab. The commercial includes a random man who appears to be Asian playing a cello and shots of women eating brunch and chugging Pepsi. 
Many people, like Martin Luther King Jr.'s daughter Bernice King, criticized the ad for making light of political protests. ThirtyRev's reimagined Pepsi ad shows what actually happens at a protest. 
Like the original ad, Skip Marley's "Lions" plays in the background, but instead of breakdancing and brunch, the ad depicts police pushing protesters, protesters pouring bottles of water in each other's eyes to counteract pepper spray blasts and fresh wounds caused by rubber bullets. 
"Hey Pepsi... don't worry, we fixed it for you," ThirtyRev wrote on its Facebook page when it posted the video. "#NoDAPL." 
In an email statement to Mic, Joseph von Meding, a filmmaker and founder of ThirtyRev, said the original ad showed that Pepsi tried to "pander to millennials, but showed how little they understand them and what they care about."
"After watching [the ad] a couple times, all I could think about was the folks at Standing Rock," von Meding said. "I've been following the movement online since late July and it was honestly the most beautiful, heroic and heartbreaking thing I've seen. It brought out the best and the worst in humanity." 
The ad stars the same people who made the protests possible: Native Americans, specifically the Sioux, and many affiliated tribes whose lands were threatened by the Dakota Access Pipeline. 
While the original Pepsi ad saw protesters and police reach a Pepsi-brokered peace, this ad shows the atrocities that police wrought on protesters trying to save Sioux land. Aside from shooting protesters with rubber bullets and spraying them with pepper spray, they also arrested dozens of those defending the land. 
Von Meding said he hopes the ad "offers a sense of solidarity to the Native Americans and other water protectors that sacrificed so much." 
"In the alternate universe of the Pepsi ad, where the protesters are demanding meaningless things like 'joining the conversation' maybe they aren't met with violence and it turns into a big Pepsi party," Meding said. "But when people demand change in a way that challenges a corrupt system or threatens corporate interests, they are silenced one way or another." 
Though protesters initially declared victory against the Dakota Access Pipeline, Trump has left that victory in serious question.