'Overwatch' on Nintendo Switch: A port doesn't seem likely any time soon — here's why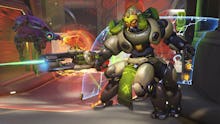 Overwatch's fearless leader Jeff Kaplan once seemed optimistic about bringing Blizzard's multiplayer shooter to the Nintendo Switch — but in a recent interview, he was a bit more candid about how tough of a process that would actually be. He didn't say an Overwatch port to the Switch would never happen, but he certainly made it seem like more of a far-off fantasy.
Here's what happened.
Overwatch Nintendo Switch release would be "challenging"
In an interview with Express, Kaplan spoke once again about the possibility of bringing Overwatch to Nintendo's handheld system.
"I think the problem is, we've really targeted our minimum spec in a way that we would have to revisit performance and how to get on that platform," he said. 
In other words, Overwatch is a little too demanding for Nintendo's hardware at the moment. Getting Overwatch on the Switch would require cutting corners somewhere — be it resolution, frame rate or something else entirely.
Kaplan also didn't seem thrilled with the idea of wrangling with yet another gaming behemoth to ensure its patches were able to roll out across all its platforms at once.
"It's already challenging right now maintaining three platforms and patching simultaneously, which is something that we've finally been able to achieve," Kaplan said. "Our first couple of patches would come out on PC first and then later on the consoles. And a lot of that is because you're working with Microsoft and Sony, and you want to be compliant to their ecosystems."
So, in short, it doesn't sound like Blizzard is actively working on a Nintendo Switch port, but it's something that's on its radar. But don't hold your breath. If that's the only thing preventing you from making a console purchasing decision, you're likely to be waiting awhile for an answer.
"Just because we're not on a platform right now, it doesn't mean we won't reconsider it in the future, so we stay aware of all these things."
More Overwatch news and updates
For more on Overwatch, check out the rest of what Mic has to offer. Here is a a look at a very funny but naughty meme on the Overwatch subreddit, an interview with the creator of an awesome new Overwatch zine, a full explanation of the different types of health in Overwatch, our definitive ranking of every Overwatch hero, a roundup of awesome gender-bent Overwatch cosplay and a giant Overwatch FAQ for beginners.