When will 'Homeland' season 7 premiere? Here are 5 things we know about the next season.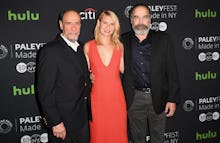 Following its emotional season six finale titled "America First," Homeland fans have barely caught their breath and adjusted to the various changes taking place in the show. Not surprisingly, questions about season seven — and the fates of Carrie Mathison and Saul Berenson — are already brewing. 
The hit Showtime series, based on the Israeli show Prisoners of War, has already signed a two-season renewal, which will extend the series through season eight. So what might the seventh season hold? 
1. Fans may have to be patient 
The first five seasons of Homeland began in the fall, but season six didn't premiere until January 2017. Executive producer Alex Gansa and the writing staff requested the delay, according to Indiewire.  
"Time does really help," executive producer Howard Gordon told Indiewire. "It's getting the composure for whatever reinvention needs to be done. Bridging what happened and what's going to happen on the show, it requires sometimes taking wrong turns before it comes together. Alex needed the time and wanted the time."
Future seasons will be at least as complicated as their predecessors, so even more time may be necessary for the writing team to craft their stories. Thirteen months passed between season five's finale and season six's premiere, so if that pattern continues, season seven won't begin until May 2018. 
2. Trump's election will continue to impact the show 
"I don't think you can overstate how much it's affected the show," Gansa told Deadline of the presidential election. "We had essentially finished writing episode eight, I believe, by the time the election happened. So once the election happened, we first had to get over the crushing feeling that we were somehow going to be immediately irrelevant when we aired. ... Right as the transition began, right after Trump got elected, it became clear that he was going to be in an adversarial relationship with his own intelligence community. Now that is a storyline that we had put at the very front and center of our alternative narrative."
Gansa also said a trip to Washington, D.C. was in the near future for the writing team. "We're going to have to keep one ear cocked to see what's actually happening in the real world," he said. "How much that will influence the story we'll tell also remains to be seen." 
3. Carrie will be there through season eight 
When Showtime renewed Homeland for two additional seasons, it also confirmed star Claire Danes would return as protagonist Carrie Mathison, according to Deadline. Danes has already earned several Golden Globe and Emmy Awards for her portrayal of the former CIA officer — and she may secure a few more before the show concludes. 
4. Seasons seven and eight might be connected 
Homeland's seasons have spanned the globe, sending Carrie around America in addition to Germany and the Middle East. The unpredictable international political climate, real-world stories and a variety of shooting locations offer seemingly endless opportunities for the show's upcoming seasons. But Gansa told Deadline he intends for the next two seasons to be intertwined. Though he isn't yet sure what they will include, they will be told "as one story."
5. Season eight may be the last 
Gansa also told Deadline his team would pen a finale to the series in the eighth season. He said if he was still standing, he would be "done," because writing the intricately dense series had taken a toll. 
Mic has ongoing Homeland coverage. Please follow our main Homeland hub here.