'Overwatch' Insurrection Release Time: When does the April 11 Omnic crisis event start?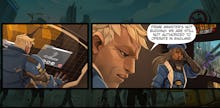 Update: The new event, officially titled "Uprising" is now live. The original story follows.
It's that time again: A new Overwatch event — this time, based on an in-universe event surrounding the Omnic crisis — will likely go live today. Blizzard hasn't announced exactly what time the latest Overwatch event, presumably called Insurrection, will begin. However, past events shed plenty of light onto what you should expect for the April 11 update.
Here's what you need to know.
Overwatch Insurrection release time: When will the April 11 event start?
The past three Overwatch events — Year of the Rooster, Winter Wonderland and Halloween Terror — have all started around 2 p.m. Eastern. It's almost certain Blizzard will begin the new Overwatch event then, too. Until then, be sure to catch up on all the info about the trailer that leaked Monday afternoon here.
We'll update this article once the event goes live.
April 11, 2017, 2:13 p.m.: This story has been updated.
More Overwatch news and updates
For more on Overwatch, check out the rest of what Mic has to offer. Here is a full explanation of the different types of health in Overwatch, the latest rumor of a Terry Crews-voiced Overwatch character, an update on that Mei ice wall exploit, a hilarious video of a play of the game involving the jump pad on Oasis, a roundup of the best Overwatch plays of the week, our definitive ranking of every Overwatch hero and a giant Overwatch FAQ for beginners.