6 months after the #GrabYourWallet campaign launched, co-founder Shannon Coulter reflects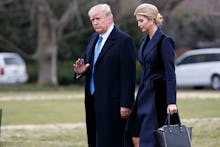 Six months ago, there was no Muslim ban. There was no failed healthcare plan. Donald Trump wasn't in the White House. Steve Bannon and Jared Kushner weren't either. Planned Parenthood wasn't under attack. Meals on Wheels wasn't on the chopping block. 
But there was leaked audio of Trump saying the words "Grab them by the pussy," released in early October. And that alone was enough to motivate Shannon Coulter to try to resist the Trump administration any way she could, even before it happened. 
"I don't know why or how but it was such a moment in my life, that it felt like this epic burst of energy for me," Coulter said in a recent interview. "It felt like almost like something was getting born that I had no control over. Other people were having such intense reactions to it. I knew if I could harness that in some constructive way, it would be meaningful." 
Days later, on October 11, she launched an online campaign encouraging people to boycott companies and brands that dared to support the Trump family. Just like that, #GrabYourWallet was born.
Six months later, it's had incredible results, not only in creating an active and passionate online community but actually getting retailers to listen to consumers when they say: Drop your Trump stuff, or I'll drop you. 
In just six months, 23 companies have been dropped from the #GrabYourWallet list, with retailers like Nordstrom and Neiman Marcus and Kmart and Sears announcing that they were cutting ties with the Trump family, and would no longer sell their stuff. More than 50 remain. 
Coulter has spoken to companies directly, even having a phone conversation with Tyra Banks, who promised that her brand, Tyra Beauty, would never be affiliated with the Celebrity Apprentice ever again. "That was very unexpected and interesting," Coulter said.
In total, the hashtag has reached more than 950 million people.
And with increased interest, Coulter's list has gone from a Google Doc to a website to now also a Google Chrome plug-in, which makes avoiding companies that still sell Trump stuff all the easier. 
But it's the community, and what it stands for, that is her greatest pride. 
"On a personal note, for me, the big silver lining of the entire advent of Team Trump taking the White House is the community that sprung up around Grab Your Wallet and hearing from a lot of people who say they weren't very politically active but this feels like an easy way to do get involved," Coulter said. 
By simply asking people to hassle and boycott companies that support Trump and his ventures, Coulter has created a community that's more than 50,000 strong and still insistent on progress. 
Coulter herself may be the real person to credit for this. 
"I see other similar efforts in this direction and in this vein, and i think what distinguishes Grab Your Wallet is a couple of things," Coulter said. "It's identifiable with a person. I try to have as much personal interaction with people on Twitter that I can. I also think that this is a woman-led and woman-driven movement. It is not unique in the world, but in terms of this kind of action, it feels unusual. Some of the more vocal progressives on Twitter, they're men, so I think that if women drive roughly 85% of consumer purchases in the country, it's not surprising that they're happy to have a woman at the helm of this." 
Indeed, on Coulter's own Twitter account, she is constantly re-tweeting and responding to her followers, who are eager to keep track of all the companies on that list. 
The real impact of Coulter's #GrabYourWallet has been argued, with reports coming out that Ivanka Trump's brand actually saw a surge in 2016, but Coulter remains defiant. #GrabYourWallet launched in Q4 of 2016, after all. And the campaign isn't really just about encouraging people to stop buying Trump stuff. It's about encouraging people to become more conscious consumers, and stand up against certain behaviors through their consumer power. 
Just this past week, Coulter got a boost of encouragement from the reaction against Bill O'Reilly, which saw advertisers and companies immediately pull their ads and dollars from his show after news of more sexual harassment allegations flooded in. 
"The fact that advertisers started dropping Bill O'Reilly even before we did any formal campaign for it was huge," Coulter said. "Immediately, Mercedes dropped its ads and that is a huge sign of success for us. Proactively, now companies are moving away from media platforms that represent divisiveness and disrespect." 
That is the future that Coulter wants. 
"The goal of Grab Your Wallet is not a partisan thing," Coulter said. "It's not a Democrat thing or a Republican thing. It's moving away from extremism and hateful, disrespectful speech and actions towards women and immigrants and LGBTQ people. The goal is a more inclusive and respectful society."