Malala Yousafzai's father, Ziauddin, said world peace can't exist without girls' education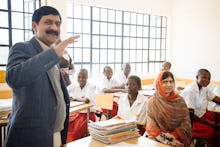 Malala Yousafzai, 19, made history once again on Monday. The feminist icon and girls' education activist became the youngest person to be awarded the United Nations' Messenger of Peace Award. She joins the coveted list of world renowned figures like anthropologist Jane Goodall, boxer and peace activist Muhammad Ali and author Elie Wiesel. 
Her father, Ziauddin, couldn't be more proud.
"She has given and committed her life to girls' education and education as a whole," he said in an interview. "The messenger of peace award will give her a moral mandate and authority by the UN to do her global campaign for education, specifically for girls' education around the world. We're so happy."
Every year, one distinguished individual is chosen by the UN secretary general to help bring awareness and expand the work of the peacekeeping international organization. Yousafzai is the first to be selected by Secretary-General António Guterres. The 19-year-old, who has dedicated most of her life as a global education activist, will focus her work as a Messenger of Peace in girls' education. And, according to Ziauddin, girls' education is an essential part in achieving world peace. 
"I am always hopeful that if you give a quality education – 12 years of education to all girls and boys — and teach them how to respect each other, teach boys how to be good fathers and motivate girls to believe in themselves and not always look to men for their rights, to stand up for their rights, I think the world will be more peaceful," Ziauddin said.
Before receiving this honor, Yousafzai and Ziauddin lived a life of turmoil and conflict in Pakistan's Swat Valley. Ziauddin has always encouraged his daughter's pursuit for an education, and he stood by her side as she spoke out against the Taliban's ban against girls in schools. But all of that came at a price on Oct. 9, 2012, when the Taliban retaliated by shooting Yousafzai, 15 years old at the time, and other schoolgirls while riding the bus. 
But despite the violence and threats targeting Yousafzai and his family, Ziauddin still believes in the power of education as a tool for peace. He said that empowering a girl, or a boy, with an education can create a change maker. He said he believes there's more power and impact in educating one child with the right values and lessons than a billion dollars.
It's also symbolic that a young Muslim woman received this peace award. It dismantles the false narrative — often promoted by President Donald Trump and conservatives — that Muslims are inherently violent toward women. 
"I am a Muslim," Ziauddin said. "My daughter is a Muslim. My wife is a Muslim. We are Muslims through many generations. As a Muslim, I don't feel any hindrance or any obstacle in believing in my freedom and believing in the freedom of my daughter and my wife."