'Overwatch' "Insurrection" Event Leaks: PlayStation France posts new update trailer early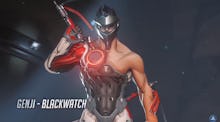 Oops. Looks like the PlayStation France account just spilled the beans on the new Omnic crisis-themed Overwatch event, officially called "Insurrection." A trailer was online briefly but has since been taken down.
The trailer confirmed the event would contain new skins for Tracer, Widowmaker, Torbjörn, Mercy, McCree and Genji. It also appears the new event will contain a special player versus environment game mode, similar to the wave-based Junkenstein's Revenge mode during the Halloween Terror event.
Overwatch Insurrection leaked skins
Here are all the skins shown off in the now deleted trailer:
Though it doesn't confirm this is the case, the trailer also appears to show off a new Orisa skin, as well:
Overwatch Insurrection leaked event trailer: New Overwatch PvE mode?
It's hard to know for sure, but the leaked trailer seems to confirm that Insurrection's special event mode will be player versus environment, meaning that players will be fighting computer-controlled enemies in a modified version of the King's Row map instead of other players.
This story is developing.