Alabama Gov. Robert Bentley to resign amid corruption scandal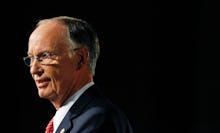 Republican Alabama Gov. Robert Bentley will resign from his position Monday, according to multiple reports. Bentley had been facing impeachment over campaign finance and state ethics laws violations that had occurred during his attempts to cover an ongoing affair with a top staffer.
Bentley had been in negotiations to step down and accept the charges with leaders in the state legislature who were preparing to impeach him, according to the Hill.
Local media reported authorities were taking Bentley's fingerprints at the Montgomery County jail.
Details of Bentley's affair have captivated local media over the past year after Bentley fired the state's top law enforcement official in a dispute over his attempt to cover up the affair.
Not long after, a tape that had been surreptitiously recorded by Bentley's wife leaked, which revealed sexually explicit conversations Bentley had with the staffer.
Bentley admitted to having had inappropriate conversations with the staffer, but denies having a physical affair. The recorded evidence and accounts from several other staffers and family members strongly suggests otherwise. 
Bentley, a devout Christian and social conservative, won election in the tea party wave of 2010, after an improbably successful primary campaign.
The state's lieutenant governor, Kay Ivey, will become governor once Bentley officially resigns Monday evening.