2017 Pulitzer Prize Winners: 4 black writers take home the coveted award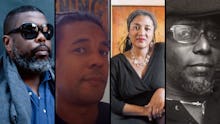 The Pulitzer Prize committee announced its 2017 winners at its 101st annual ceremony on Monday. Among the 21 winners of the prestigious literary award, four black writers were commended for their work.
BuzzFeed News' executive editor Saeed Jones tweeted that Tyehimba Jess, Hilton Als, Lynn Nottage and Colson Whitehead were among the new class of winners from the letters, drama and music category.
Jess won the Pulitzer Prize in poetry for Olio, a collection of his sonnets, songs and narratives that highlight the lives of "unrecorded African-American performers" before the Civil War up to World War I. 
Als, a theater critic for the New Yorker, won a Pulitzer Prize in criticism. His work often furthers discussions on the intersections of theater, race, identity, sexuality and class in the United States. This can be seen in his January 2016 review of Broadway musical DreamGirls, which was one of his 10 pieces that were reviewed before awarding Als the award.
Nottage won the Pulitzer Prize in drama for her Broadway show Sweat. The play, a political drama, centers on a group of friends who spent most of their lives working with each other in a factory and follows their friendship's tumultuous friendship as rumors of layoffs begin to stir. According to Playbill, Nottage is the first female playwright to win the Pulitzer Prize twice. Nottage tweeted out thank yous for her award.
Lastly, Whitehead won the Pulitzer Prize in fiction for his 2016 novel The Underground Railroad. The novel tells the story of a teenage heroine, Cora, in 1850s Georgia who tries to escape a cotton plantation and start her journey toward freedom.
The Pulitzer Prize committee praised The Underground Railroad for "a smart melding of realism and allegory that combines the violence of slavery and the drama of escape in a myth that speaks to contemporary America."