Nintendo Switch Screen Defect: Display popping out of some consoles — how to check yours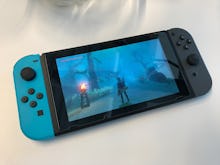 The Nintendo Switch launch hasn't been without its hurdles. At first, the console was known to get scratches, the acute angle-shaped dock didn't help. Then left Joy-Con started giving gamers trouble (us included. Tip: just call up Nintendo). Now there's another mini plague that Nintendo players will have to deal with. This one takes the former of the screen popping out of the console itself.
Nintendo Switch screen defect: Screen coming out of unit
As noted by Reddit user Mailman487, the top-right part of their Nintendo Switch screen is poking out. Other users like Calimar777 and 826836 have run into similar display problems on their units, as did Yabbakinz back in the day. Here's the photo that Mailman487 posted of their defect Switch unit.
The damage isn't drastic, but it's enough to note. While the picture is fuzzy and Mailman487 uses a screen protector, you can see that the edge of the glass slowly raises the further you go right. This shouldn't be a problem during normal use, but could be problematic if you carry your Switch in your bag and the right corner gets pulled out even further by something in your pack. SireNightFire brings us another picture:
According to the aforementioned Yabbakinz, Nintendo was able to repair his unit by sending it into Nintendo. If your console's screen is busted near the right corner you, may want to give Nintendo a call. If you're in the market for a Switch (and can actually find the thing), pray your screen is flush with your console.
Check out more Nintendo Switch news and coverage
Looking for more Nintendo Switch news? Check out how blind gamers are using the Nintendo Switch. Nintendo's left Joy-Con issue turns out to be a hardware problem — find out how to solve it. Find out how to buy a console amidst the recent restock. Learn why the Switch cartridges taste so bad. Check out our comparison photos sizing up the Switch to the Wii U GamePad (part one and part two), or find out how to make use of ethernet without the dock and the best way to get alerts when new stock arrives.