Here's what Donald Trump's National Security Council shake-up means for his foreign policy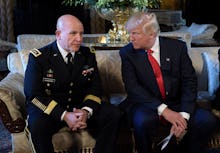 On Sunday, the New York Times reported deputy national security adviser K.T. McFarland will be stepping down from her position and is soon expected to be nominated as President Donald Trump's ambassador to Singapore. McFarland has been serving in one of the most important roles on the NSC, with wide purview, all of which raises the question: How should we interpret yet another major change to Trump's national security team?
McFarland's imminent departure is a clear signal Gen. H.R. McMaster is cleaning house from the Mike Flynn era. Flynn resigned in mid-February after failing to disclose to Vice President Mike Pence his phone calls with a Russian diplomat. Since then, McMaster has restructured the NSC and eliminated several positions which Flynn created. Most notably, White House chief strategist Steve Bannon was removed from his controversial appointment on the principals committee of the NSC last week.
"This is an effort by McMaster to continue to professionalize the NSC and ensure that it plays its proper role in national security," said Mark Feierstein, who served as senior director for Western Hemisphere Affairs on the National Security Council during the Obama administration.
McFarland, who was in Flynn's inner circle, was a polarizing figure in the national security community. The 65-year-old served as an aide on the NSC during the Nixon and Ford administrations, but had been out of government for over three decades prior her to appointment in the Trump administration. In recent years, she had been working as a Fox News national security commentator and drew fire in 2013 when she said in an opinion piece that Vladimir Putin deserves a Nobel Peace Prize.
As I previously reported, McFarland was also involved in an incident in early February in which she met with two American businessmen with ties to Trump's son, Donald Trump Jr., about removing sanctions on Venezuela in exchange for friendly business ties with the socialist country.
McFarland's demotion is perhaps the clearest sign yet that President Donald Trump may be planning a pivot to the center, away from the far-right wing of the Republican Party championed by Bannon. Trump has yet to articulate a clear foreign policy doctrine. However, he has been hinting about a centrist push in the wake of the health care debacle, which saw Trump clashing with the far-right Freedom Caucus in Congress.
In recent days, Trump has elevated his more moderate advisers, including his adviser and son-in-law Jared Kushner as well as chief economic adviser Gary Cohn. There is some speculation that Bannon, who has reportedly been critical of Kushner, may be on his way out.
On the NSC, McMaster recently promoted Dina Powell as deputy national security adviser for strategy working alongside McFarland, who is another moderate conservative voice in the White House. Powell, who worked with Condoleezza Rice as an assistant secretary of state for education and cultural affairs, is a Bush administration veteran who previously served as president of the Goldman Sachs Foundation.
In practice, it's seeming more and more like Trump is building a foreign policy that may resemble that of former President George W. Bush more closely than Trump's most ardent supporters on the far-right might have hoped. Over the weekend, prominent far-right and white nationalist voices expressed their opposition to Trump's decision to order a missile strike on Syria — accusing the president of flip-flopping on his "America First" foreign policy mantra. Infowars editor Paul Joseph Watson, for example, slammed Trump on Twitter, calling him "just another deep state/neocon puppet," and declaring, "I'm officially OFF the Trump train."
That sentiment poses a political risk to Trump, who has been a favorite of that wing of the party since the earliest days of the presidential campaign. However, for those who were concerned about Trump's controversial national security appointments in his administration's early days, McFarland's departure will come as welcome news. Trump's appointment of McMaster, who is one of the Army's leading intellectuals and is widely respected in Washington on both sides of the political aisle as a deep thinker, has settled some of the initial uncertainty which has clouded the first several months of Trump's presidency.
According to Feierstein, "H.R. McMaster was a solid choice and from what I hear from people inside, the career officers see him as a serious professional who is trying to ensure that the NSC plays its proper role, as it has for decades."