Chicago police insisted man dragged off United flight "fell," despite clear video evidence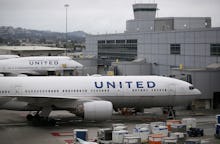 The Chicago Police Department released a factually dubious statement about the United Airlines passenger who security guards dragged off a flight at O'Hare International Airport on Sunday evening, saying the man "fell" despite clear video evidence the passenger was injured by security.
Footage posted by other passengers showed airport security personnel chose to resolve a dispute over flight overbooking by force, dragging the screaming man from his seat even he explained he was a doctor who had multiple appointments at his destination, the Courier-Journal reported, citing others on the plane.
But as the Chicago Sun-Times wrote, a Chicago Police Department spokesperson released a statement saying a "69-year-old male Asian airline passenger" became "irate" and aviation security "attempted to carry the individual off the flight when he fell."
The footage is clear the passenger did not fall. Instead, he was slammed by an airport security officer against a handrest and then dragged, limp, off United Flight 3411 by the same officer.
"Craziest (and somehow most predictable) part of the United story: The Chicago Police Department putting out an OBVIOUSLY untrue statement saying the man 'fell,'" MSNBC host Chris Hayes tweeted. "EVEN THOUGH IT WASN'T EVEN CPD OFFICERS WHO DRAGGED HIM! Just, like, for kicks, they threw their hat in the ring."
According to the Sun-Times, CPD officers provide joint security with unarmed Department of Aviation agents — but were not involved in the incident. CPD subsequently began redirecting inquiries to the latter agency when the statement began attracting criticism on Twitter.
Though Chicago police were not involved in the handling of the passenger, a recent Department of Justice investigation concluded the agency was involved in rampant abuse of their powers, particularly regarding their use of force.
United Airlines received additional criticism after it doubled down on their right to remove the man from the plane, despite the subsequent revelation space was being made for United employees on standby rather than additional paying customers.