Merriam-Webster just threw some serious shade at United Airlines for its deplaning debacle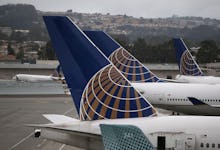 No one knows how to read quite like the dictionary. 
On Monday night, dictionary Merriam-Webster used its Twitter account to shade United Airlines in response to viral footage of security guards dragging an elderly Asian man off an overbooked United flight. 
Gate staff kept asking passengers to volunteer to leave the overbooked flight in order to accommodate staff who needed to board the plane. When no one volunteered, despite being offered compensation, the airline chose people to volunteer — and deplaned Bridges with brute force, leaving him bloodied.
In their Monday night tweet, Merriam-Webster reminded United what it means to "volunteer." 
"'Volunteer' means 'someone who does something without being forced to do it,'" the tweet from Merriam-Webster reads. 
Given how unpopular United was with the internet on Monday, Merriam-Webster's tweet was a hit. 
If you looked up "shade" in the dictionary, then this tweet would be a prime example. Despite only adding the word this year, Merriam-Webster's Twitter feed has been a storehouse of shade for some time. In April 2016, the dictionary had words for those who didn't know what the word "genderqueer" meant. 
United may recover from Merriam-Webster's shade, even if recovering from the deplaning incident may take a bit longer. 
In a statement shared on Twitter, United CEO Oscar Munoz called the event "upsetting" to everyone at United. 
"I apologize for having to reaccomodate these customers," he wrote. "Our team is moving with a sense of urgency to work with the authorities and conduct our own detailed review of what happened. We are also reaching out to this passenger to talk directly to him and further address and resolve this situation." 
Even though the Chicago Police Department was not responsible for the bloody deplaning incident, they nonetheless issued a statement saying the man was "irate" and that he "fell," rather than being physically forced. 
The guard involved in the incident was placed on leave, according to the Associated Press.