What happened with United Airlines? Company faces backlash over man dragged off flight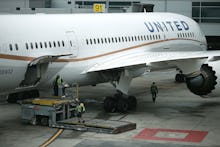 On Monday, a viral video depicting a man being dragged off an overbooked United Airlines flight — and a follow-up video depicting the bloody aftermath of the brutal incident — left United Airlines doing some serious damage control. 
Passengers on the overcrowded flight from Chicago to Kentucky were offered compensation for giving up their seats. When no one volunteered, United randomly selected passengers to deplane, including one whom they ousted with brute force. 
Though the CEO called the event "upsetting," Twitter users felt the company was in need of a serious rebrand and offered some new slogans under the hashtag #NewUnitedAirlinesMottos. 
Some people even made up some slogans for their competitors.
Jimmy Kimmel even parodied the incident on Jimmy Kimmel Live! with a mock in-flight video. 
Aside from being offered new slogans and receiving some serious shade, United has faced severe backlash in other ways, as well.
Mashable reported Chinese consumers have begun to shred their United credit cards in response to the incident. The incident was the top trending item on Weibo, the Chinese version of Twitter. 
This is especially bad news for United, as China is a key market for the airline, Mashable reports.