Kendrick Lamar 'Damn.' track list: Every song on the "Humble" rapper's fourth studio album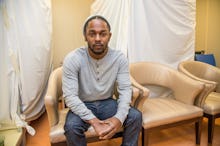 Kendrick Lamar has released the details surrounding his upcoming fourth studio album, titled Damn. The album cover and track list come less than a week after the Compton rapper confirmed the April 14 release date.
Compared to his previous epics, the new album's cover is relatively barebones. The title appears in a simple serif font across the top, followed by a period. Glassy-eyed Kendrick Lamar wears braids and looks like he's spent days in the sauce. He shared the back cover as well: a green "Damn." headlining a sort of yin-yang layout, with a white T-shirted Lamar standing against a black background and the album's 14 tracks spelled out along the divide.
Damn. comes with two official features: Rihanna and Irish rock band U2. Kendrick Lamar will dabble in rap rock.
Every track comes with a simple one-word title, with a few taking their names from various sins. Those tracks with weighty religious undertones seem to come in pairs "Pride" and "Humble," "Lust" and "Love," "Fear" and "God." The album ends with a track called "Duckworth," Kendrick Lamar's real-life surname, a concept that couples nicely with the album's opening tracks, "Blood" and "DNA."
These confirmed features build on the leaked list of composers, which can be viewed in the iTunes preorder's metadata. Sounwave, DJ Dahi, James Blake, jazz band BadBadNotGood, the Alchemist and Cardo are all set to appear.
Despite Lamar's ending couplet on "The Heart, Pt. 4" that told the world to get its "shit together" by April 7, the album's actual release date was delayed until the following week. It will arrive on Friday, April 14 at 12 a.m. Eastern
Read the Damn. track list below:
1. Blood
More Kendrick Lamar news and updates
Mic has ongoing coverage of Kendrick Lamar's rise. Check out our review of his previous To Pimp a Butterfly and a breakdown of the structuralist and culturalist theories of racism that clash at the album's heart. Read up on the story of his rise from Compton local favorite to king of the west coast, alongside a list of his best guest verses, a breakdown of the lyrics to "The Heart, Pt. 4" and "Humble" and an investigation of how "Alright" became a go-to protest anthem.