Dolphin Emulator Android: GameCube on Samsung Galaxy S8 runs smoother than some PCs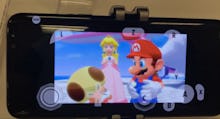 It's not often that Android sees a very stable GameCube emulator app that will play all your old favorite Nintendo games. The Dolphin download on the upcoming Samsung Galaxy S8, however, is looking to change that perception in 2017. We all know the best part of a game console release is knowing you'll be able to play those very same games on your computer or phone in 10-ish years. Such is the case for Android and GameCube, and this time the emulator experience smoother than ever.
Android GameCube emulator: Dolphin is looking better than ever
In a YouTube video, user GuruAidTechSupport installs the Dolphin emulator for Android on a display model (as the phone has yet to release). We've seen Dolphin run on Android in the past but not at speeds that were smooth enough to actually play a game. The latest Galaxy S8, however, brings the specs needed to put Super Mario Sunshine and Legend of Zelda: Wind Waker in your pocket. What a time to be alive.
The frame rate of this version of Dolphin running on the Samsung Galaxy S8 makes old games playable, but what hinders full emulator enjoyment is the button layout. While all the buttons are there, it clutters up the screen and, unfortunately, there's almost no better way to make all the input options available. With Bluetooth built-in, we'd hope that this iteration of Dolphin brings support for connecting game controllers to your phone. Combine a gamepad with a phone full of GameCube titles and you've got the perfect nostalgia machine while you wait for Nintendo to get their virtual console act together.
Check out more Nintendo news and coverage
Looking for more Nintendo Switch news? Check out how blind gamers are using the Nintendo Switch. Nintendo's left Joy-Con issue turns out to be a hardware problem — find out how to solve it. Find out how to buy a console amidst the recent restock. Learn why the Switch cartridges taste so bad. Check out our comparison photos sizing up the Switch to the Wii U GamePad (part one and part two), or find out how to make use of ethernet without the dock and the best way to get alerts when new stock arrives.