'Overwatch' Uprising Skins: Every event cosmetic for Mercy, Tracer, Widowmaker and more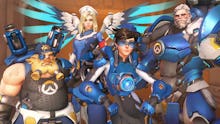 The newest Overwatch event, Uprising, is finally here, and that means new character skins and other cosmetics.
Yes, yes, the new player-versus-environment mode is very exciting, but the most important thing you need to know are all the special skins, highlight intros and victory poses you'll have just a few weeks to earn — and by earn, we mean quietly sob as you spend no less than $50 on loot boxes containing voice lines you already have for that character you never play.
Now for the good news: We've rounded up all the new Uprising skins — and other cosmetic items, except for sprays — below that you can earn right now until the event ends on May 1.
Overwatch Uprising skins
Here are all the brand-new skins for Widowmaker, Torbjörn, Mercy, Reinhardt, Tracer, Bastion, Genji, Orisa and McCree:
Overwatch Uprising highlight intros
Here is every new Uprising highlight intro for Torbjörn, D.Va and Zenyatta:
Overwatch Uprising event emotes
Here are the new emotes for Hanzo, Soldier: 76 and Pharah:
Overwatch Uprising victory poses
Here are the new victory poses for Genji, Lúcio, McCree, Symmetra, Winston and Zarya:
Overwatch's Uprising event will last through May 1.
More Overwatch news and updates
For more on Overwatch, check out the rest of what Mic has to offer. Here is a full explanation of the different types of health in Overwatch, the latest rumor of a Terry Crews-voiced Overwatch character, an update on that Mei ice wall exploit, a hilarious video of a play of the game involving the jump pad on Oasis, a roundup of the best Overwatch plays of the week, our definitive ranking of every Overwatch hero and a giant Overwatch FAQ for beginners.