Rex Tillerson arrives in Russia after issuing demand to Putin on Syria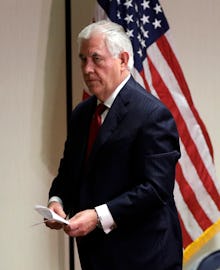 Before leaving for Moscow from a Group of 7 meeting in Italy, Secretary of State Rex Tillerson gave Russia a demand: Ally with the United States on Syria and play an "important role" in Middle East talks, or continue to side with President Bashar Assad and risk becoming irrelevant.
"Is that a long term alliance that serves Russia's interests?" Tillerson said Tuesday. "Or would Russia prefer to realign with the United States, with other Western countries and Middle East countries that are seeking to resolve the Syrian crisis?"
"Only Russia can answer that question," Tillerson said.
Tillerson's comments at the G7 meeting in Lucca come just ahead of a delicate trip to Russia, which has condemned last week's U.S. strike on a Syrian air base in response to a deadly chemical attack by Assad. 
The Trump administration, meanwhile, has said that the Assad regime will fall — but the administration has so far been vague and disjointed about its next moves in Syria going forward. 
On Tuesday, Tillerson reiterated that the administration's primary goal in Syria and Iraq "remains the defeat of ISIS," but said that "it is clear to all of us that the reign of the Assad family is coming to an end."
"We are not presupposing how that occurs," Tillerson said.
For now, the path forward will not involve new sanctions.
Foreign leaders gathered at the G7 meeting on Tuesday failed to agree on a British plan to back the U.S. with sanctions against Syrian and Russian military personnel who had been "contaminated by the appalling actions of the Assad regime," CNN reported. 
"There is no consensus on additional new sanctions," Italian Foreign Minister Angelino Alfano said.
Tillerson arrived in Russia — which he accused at the G7 meeting earlier of being "incompetent" or failing take its responsibility seriously to monitor Syria's chemical weapons — on Tuesday. It is the first official visit by a Trump Cabinet member to the country.
He was expected to discuss Ukraine, NATO, Iran and Syria. Russian President Vladimir Putin was not expected to meet with Tillerson.
"We have not announced any such meetings and right now there is no meeting with Tillerson in the president's diary," spokesman Dmitry Peskov told reporters Monday.