8 years after Obama starts the White House Passover Seder, Trump didn't attend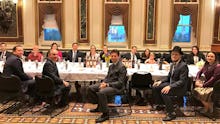 It's not always best to break with tradition. 
The White House observed the first night of Passover on Monday with its annual Seder. White House press secretary Sean Spicer tweeted out an image of the gathering from his Twitter account. 
But people couldn't help but notice that, unlike his predecessor Barack Obama, President Donald Trump was not in attendance at the night's event. Ivanka Trump and her husband Jared Kushner were not pictured, either. 
Ivanka Trump did tweet out a Passover photo, though it didn't say where she was or include anyone else in the photo besides her immediate family. 
The White House did not immediately respond to Mic's request for clarification as to who attended the Seder. However, White House spokeswoman Natalie Strom had indicated to the Washington Post that Trump would probably not attend. 
"A few details are still being nailed down, but as of now it seems the president will not be attending," Strom told the Post. Trump did, however, tweet about Passover. 
In 2009, Obama made history by hosting the first Passover Seder at the White House. The tradition began one year earlier when three of Obama's Jewish campaign staff members hosted a makeshift Seder when they realized they'd be unable to be with family for the holiday. One of the staffers, Eric Lesser, told the Huffington Post that on the night of their 2008 Seder, then-senator Obama "popped his head in and said, 'Hey, is this the Seder?'" 
Though Obama is not Jewish, he held the Seder annually at the White House since 2009. According to Herbie Ziskend, another former staffer who helped found the White House Seder, Obama saw common themes in the Jewish story of Exodus and the U.S. civil rights movement, a connection they often discussed around the table. To bring a modern spin to the table, according to Ziskend, attendees at the dinner also read the Emancipation Proclamation as part of the evening's agenda. 
Trump is the first president ever to have immediate Jewish family members. However, since taking office, Trump's inaction and silence on the rise of anti-Semitism since his election have given many pause.
In February, Trump refused to answer a question about a rise in anti-Semitic attacks on U.S. soil. Hillary Clinton later chided him for that silence. 
Furthermore, when the Trump administration issued a statement on International Holocaust Remembrance Day, it failed to mention Jewish people at all. Mic previously reported that Trump's inaugural address used a slogan historically linked to anti-Semitism, as well. 
Even before his election win, Trump made waves by circulating a meme calling Clinton the "most corrupt candidate ever," with the words superimposed onto a Star of David.