Bill O'Reilly also has a history of on-air sexism at Fox News. Here are 7 examples.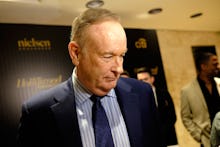 Bill O'Reilly's alleged habitual mistreatment of women is under intense scrutiny after the New York Times reported Fox News and its top host paid out roughly $13 million to silence women who've filed sexual and verbal harassment lawsuits against O'Reilly. 
It's not the first time O'Reilly has faced these kinds of allegations: In 2004, Fox producer Andrea Mackris also sued O'Reilly for sexual harassment, accusing him of "repeatedly engaging in offensive sex talk with her, of having unwanted phone sex with her while using a vibrator on himself and of describing his fantasies about having sex with her in a shower."
The New York Times had previously reported that former Fox employee Julia Huddy accused O'Reilly of harassing her in 2011, attempting to leverage his "significant influence over her career" into a sexual relationship. Among other inappropriate overtures, Huddy alleged O'Reilly called her repeatedly and that it "sometimes sounded as if he was masturbating," according to the New York Times.
Again and again, O'Reilly has demonstrated disdain for and disrespect of women. His media career has been a parade of sexist commentary. Here are seven particularly egregious illustrations of this. 
O'Reilly makes gendered, racist comments about Maxine Waters' hair, Fox & Friends (2017)
In a recent Fox & Friends appearance, O'Reilly was asked to comment on a statement Rep. Maxine Waters had made about President Donald Trump, in which she called him "dangerous." A clip of her remarks played, but O'Reilly dismissed it immediately after, choosing to ignore her words and focus instead on her appearance:
"I didn't hear a word she said," he said. "I was looking at the James Brown wig." 
O'Reilly ended up offering an extremely rare apology for his remarks, claiming he "respect[s] Congresswoman Maxine Waters for being sincere in her beliefs," and that his joke was "dumb." 
O'Reilly suggests women can't keep emotions in check, shouldn't cover Donald Trump, The O'Reilly Factor (2016)
In a May 2016 episode of The O'Reilly Factor, the Washington Post's Bob Woodward and O'Reilly discussed objectivity in journalism. The peg was a New York Times article titled "Crossing the Line: How Donald Trump Behaved With Women in Private," authored by Michael Barbaro and Megan Twohey. O'Reilly argued that because Twohey was a feminist — and Trump, "a beauty pageant purveyor," is the "antithesis" of that — she shouldn't be able to report on him.
"Somebody is a conservative or a liberal, that doesn't mean they can't report," Woodward said. "As we learn over the decades, the best reporters may have feelings and personal conclusions, and they can edit those and filter those things out."
O'Reilly replied: "If I'm an editor and I know there is a feminist woman in my newsroom, who is brilliant because I think this woman is an excellent reporter, I don't let her report on a guy like Trump because Trump is the antithesis of that. And so I don't want any margin of error here, there are plenty of reporters who can do the story, do you not see that?"
Women can't control their emotions, apparently, so only men can report on Trump in O'Reilly's mind.
O'Reilly says there's something off about a woman president, The O'Reilly Factor (2014)
In February 2014, conservative politician Michele Bachmann appeared on The O'Reilly Factor and speculated the country might not be ready for a woman president. O'Reilly then invited two women — Fox News contributor Kirsten Powers and political strategist Kate Obenshain — on the show to talk about the subject.
"There's got to be some downside to having a woman president, right?" he asked Powers. "Something — something that may not fit with that office, correct?"
O'Reilly eventually conceded that 44 consecutive male presidents had presented some downsides, too, but ultimately concluded that: "Men are men and women are women, and there's a difference ... There's a difference between the genders."
O'Reilly "can't help" being sexist, The O'Reilly Factor (2009)
In 2009, O'Reilly invited hyper-conservative talking head Ann Coulter on his show and asked her if her friendship with comedian Joy Behar consisted of "trading recipes." Coulter responded, "We do not trade recipes. Stop being such a sexist, Bill O'Reilly," to which he replied "can't help it." Shrug.
O'Reilly calls octogenarian journalist Helen Thomas a witch, The O'Reilly Factor (2009)
In a Feb. 9, 2009 segment on The O'Reilly Factor, the host went after legendary journalist Helen Thomas, who was 88 years old at the time. In a press conference with then-President Barack Obama, Thomas asked a question about whether Pakistan was maintaining safe havens in Afghanistan. Twisting Thomas' words entirely, O'Reilly imitated her voice with a high-pitched squawk and compared Thomas to the Wizard of Oz's Wicked Witch of the East. 
The tradition of men belittling powerful women as witches is an old one — recall the witch trials, in both New England and Europe — and often comes with a characterization of those women as shrill. O'Reilly checked all the boxes on this one. 
O'Reilly promises pretty clothes in exchange for a Sarah Palin interview, The View (2008)
Speaking to the all-female cast of The View has often proved a field of landmines for O'Reilly, who can't resist gendered microaggressions. In a 2008 episode, he told host Behar that because her "name is Joy," she "should be joyful," before transitioning to another spectacularly tone-deaf moment: O'Reilly posited that his guests were always treated fairly on his show, and that — if Sarah Palin agreed to an appearance — the same would go for her.
"I want her to come in," he said. "I have outfits she can wear ... I want her to come in."
O'Reilly blames woman for getting raped and murdered, The Radio Factor With Bill O'Reilly (2006)
On The Radio Factor With Bill O'Reilly in August 2006, O'Reilly discussed Jennifer Moore, an 18-year-old who had recently been raped and murdered after a night out in New York City — and who, in O'Reilly's estimation, was "moronic."
"She was [5 feet 2 inches tall], 105 pounds, wearing a miniskirt and a halter top with a bare midriff," O'Reilly said. "Now, again, there you go. So every predator in the world is gonna pick that up at 2:00 in the morning."
Instead of placing blame on the man who kidnapped, raped and murdered a teenager before leaving her body in a garbage bin, O'Reilly blamed the victim for being drunk and wearing a short skirt. Classic.