In Egypt, 3 Muslim female police officers died protecting Christians in Palm Sunday attack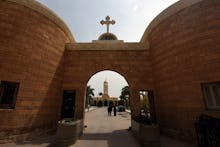 In Egypt, three Muslim female police officers — Nagwa El-Haggar, Asmaa Hussein and Omneya Roshdy — are being hailed as heroes for attempting to save the lives of Coptic Christians targeted in two attacks that took place on Palm Sunday. 
El-Haggar, a brigadier general for the Egyptian police force, died while in the line of duty at St. Mark's Coptic Orthodox Cathedral in Alexandria. She was 53.
The attack at St. Mark's killed at least 17 people and injured 48 others; the suicide bombings took place right outside the main gates of the cathedral. ISIS claimed responsibility for the attack. El-Haggar was conducting inspections for people entering the church. The bomb detonated when she rushed to the aid of her male co-workers after noticing they had trouble with the suspect, Arab News reported.
On Twitter, Council of Arab-British Understanding's Joseph Willits tweeted photos of El-Haggar, including one taken minutes before the attack.
Just hours before the attack at St. Mark's, another suicide bomber detonated himself at the altar of St. George's Church in Tanta, Egypt. The attack, which killed at least 27 people and injured 78 others, killed two other Muslim female officers: Hussein and Roshdy. According to Daily News Egypt, this may be the country's first instance of Muslim female police officers being killed while on duty.
According to Egypt Independent, an independent newspaper based in Egypt, Roshdy was going to get married in a month. In fact, minutes before her death, Roshdy texted her friends on Whatsapp informing them she'd like to see them before her wedding day. Hussein leaves behind two daughters. But despite their plans for their future, they continued to serve on duty.
"[Roshdy] was one of the most dedicated women who served in the police," her friend Safaa Ibrahim told Egyptian daily newspaper Youm7. "She loved her work and her country very much, and she insisted to continue working, even a few weeks before her wedding... She did not ask for a vacation."
Islam Fathi, El-Haggar's nephew, told Dream TV host Wael Ibrashy that he was proud of his aunt, who was always "known for her kindness." 
He said that even though El-Haggar was Muslim, she would pray at the church alongside her Coptic Christian neighbors.
"I say to our Coptic Christian brothers and sisters: Do not be sad," Fathi told Ibrashy. "Muslims and Christians are one. It's not about Muslim attacking Christians. No. My aunt was a Muslim. She was a believer ... She was protecting Christians who were also praying in the Church."