A new study says period syncing isn't real — even though most women swear it is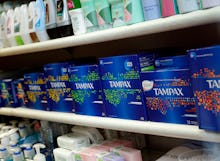 The closest most of us ever get to feeling like we're in a coven of witches is when our menstrual cycles seem to sync up with our friends'. The perceived phenomenon even has a scientific name: menstrual synchrony. 
The term was coined by Martha McClintock, the Harvard scientist who published a study in 1971 on whether women living together in dormitories affected their menstrual cycles. Since then, scientists have had a hard time replicating the results from McClintock's pioneering research.
Now a new study has debunked the idea that women's periods synchronize altogether, putting an end to our illusions about our collective menstrual sorcery. 
According to research from period-tracking app Clue and the University of Oxford, menstrual syncing is just another long-perpetuated myth about our reproductive systems.
Scientists analyzed a sample of more than 1,500 women, which they narrowed down to 360 pairs. After following those pairs over at least three menstrual cycles, they found that 273 of them had a greater difference between their cycle start dates than when the study started.
"This doesn't mean that pairs go out of sync — it means they were never in sync in the first place," Clue data scientist Marija Vlajic told the Guardian. "It's the nature of two mathematical series that keep repeating: The series will diverge as the numbers grow."
But despite emerging findings that period syncing is no more than a hoax, there's evidence that an overwhelming majority of women believe in its existence.
A 1999 study showed 80% of women believed in menstrual synchrony, while 70% said they enjoyed the experience of feeling that their cycle was synced with another woman's, the Guardian reported.
The Huffington Post reported in 2015 that there's "no foolproof evidence that it's a real physiological phenomenon," but people still have plenty of anecdotal evidence speaking to its existence. 
But even if you've had your period at the same time as your friends, there could be a simple answer as to why that has nothing to do with syncing.
"When I say to my friends that I have my period and they have theirs too I don't conclude that we are syncing," Vlajic said. "I just think it's information bias; our brains looking for patterns."
There you have it: All any of us are looking for is a little solidarity.