Who was kicked off 'Dancing with the Stars' in week 4? A breakdown of the bottom dancers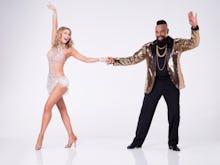 There were a lot of tears on the Monday episode of Dancing With the Stars, and not just because the cast had to say goodbye to a beloved contestant. The night's theme was "Most Memorable Year," so each contestant's dance was an homage to a personal moment that had a resounding effect on their life. For the most part, that meant everyone saw higher scores, but alas, those scores couldn't protect everyone from elimination.
Sadly, despite his notable improvement and valiant efforts, Mr. T was the one to go this time. While his waltz set to "Amazing Grace" was definitely moving, as was his story about surviving cancer, he's simply not a dancer. Contestants can get away with relying on natural charisma for the first few weeks of competition, but once they reach week four, those who just don't have it begin to get weeded out of the pack. 
That being said, Mr. T received some genuinely lovely comments from the judge Carrie Ann Inaba on his waltz. "You are ... winning our hearts," she told him, which hopefully took some of the sting out his mediocre scores. 
The other contestant who found herself at the bottom of the heap was Real Housewives of Beverly Hills star Erika Jayne. She and partner Gleb Savchenko danced a cha-cha to Madonna's "Express Yourself" that left something to be desired. Len Goodman noted that while she had been improving over the first few weeks, she appeared to have reached a plateau — a dangerous area for contestants looking to make it to the final weeks on DWTS. 
Let's hope she can break through, because Jayne's definitely shown she's got major potential as a dancer. 
On the other side of the spectrum, NFL star Rashad Jennings stunned everyone with his breakout performance of a contemporary dance to Katy Perry's "Unconditionally." The dance itself was truly moving, but when he hugged his father afterwards, it brought the house down. In the end, he managed to score two 10s and a nine — his first 10s of the season. 
Things are definitely ramping up on DWTS, but contestants with heart like Mr. T won't soon be forgotten. 
Mic has ongoing DWTS coverage. Please follow our DWTS hub here.